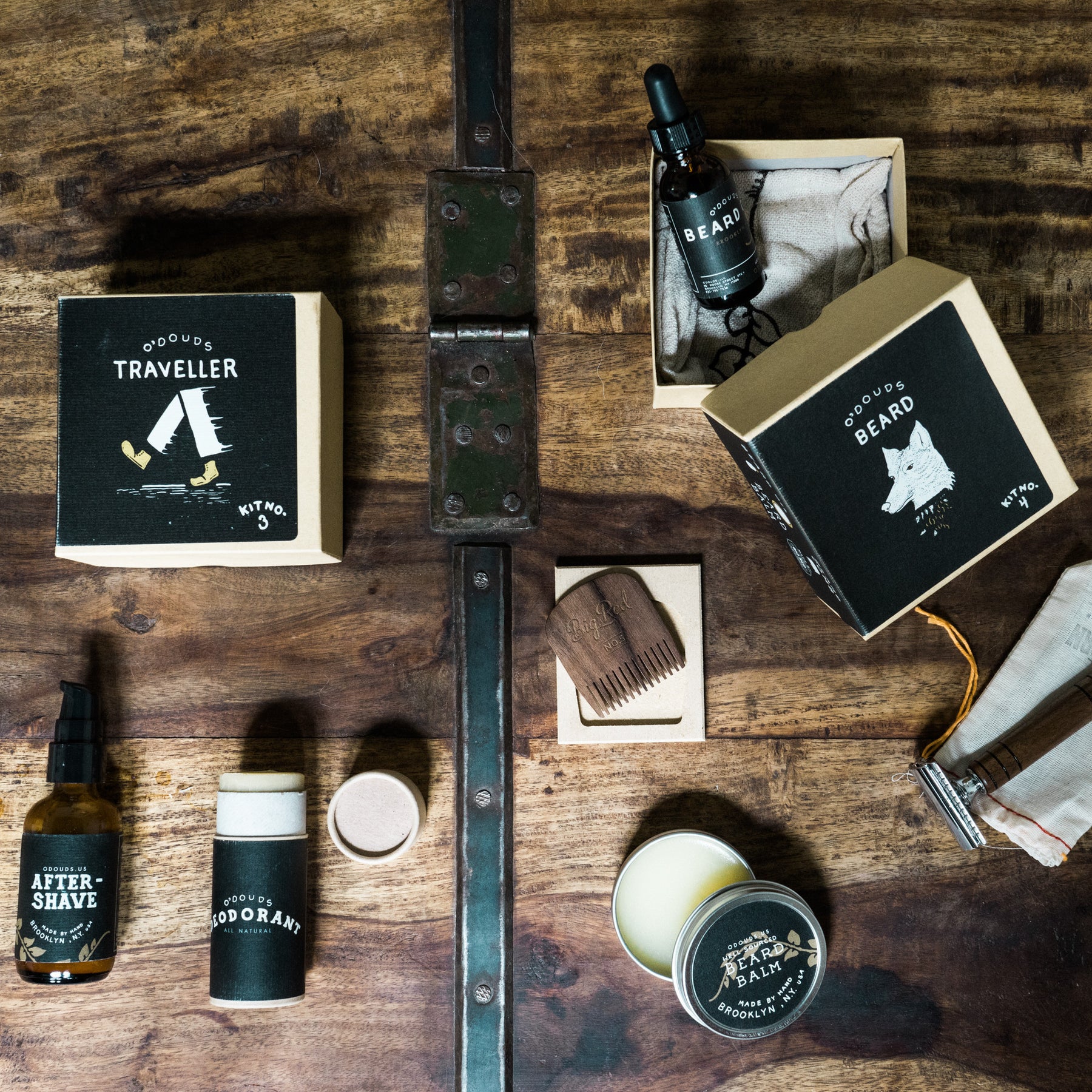 New Product Launch
New products are finally upon us, and boy do we have a lot to share with you guys! This release, along with some behind-the-scenes improvements, has been our sole focus this year. We've spent 2016 forming partnerships with artists, makers, photographers, barbers, and bloggers to strengthen everything we do, and we think you'll start noticing those changes. 
Below you will find:
New Products
Collaboration Products
Kits
Changes
New Products
Deodorant - It's hard to put into words how excited we are about this release. People have long been asking us to make a deodorant because, frankly, there just aren't many options. It took us over a year to get it right, but we think the wait was worth it. Easy application and all day protection. Paraben, sulfate, and aluminum free. 
Beard Balm - We're finally rounding out our beard line with a Beard Balm. For beards that can't be tamed by oils alone. Our Beard Balm applies easy, gives great control, is healthy for your hair, and isn't excessively oily, greasy, or sticky.  
Aftershave - Moisturizes, cleanses, cools, and protects the skin and pores after shaving. Our aftershave is non alcohol-based and contains both witch hazel and menthol.
Collaborations
Beard Comb - When we decided to get a beard comb made, the decision on where to go was easy. Big Red makes beautiful, lasting, effective, and affordable beard combs….. what else could you want? 
Safety Razor - Made by the fine folks over at Lowborn Supply. This custom-made walnut DE safety razor will not only last a lifetime and give you the cleanest shave you've ever had, but you'll save money, time, and trash when you switch to traditional razor blades.
Kits
Clean Up Your Act | Kit #1 - Get it for a friend or family member that needs to clean up their act…. or do those people a favor by getting it for yourself.
Contains: Deodorant, Soap, Solid Cologne
Shave | Kit #2 - Go from shaving with a disposable and soap to feeling like a king with our new Shave Kit. 
Contains: Shave Cream, Aftershave, Safety Razor (Blades included)
Traveller | Kit #3 - The perfect carry-on travel companion. We've sized down the Water Based Pomade and Shampoo so that you can carry it on a plane, boat, wagon, or anywhere else your adventure might take you.
Contains: 1 oz Water Based Pomade, 1 oz Shampoo, Solid Cologne
Beard | Kit #4 - Whether you've been growing your beard for years or you're just starting, our Beard Kit will help you straighten out your journey. 
Contains: Beard Oil, Beard Balm, Beard Comb
Changes 
Bay Rum Scent - Updated with added notes of Coriander, Lime, and Juniper. This will apply to all products with the Bay Rum scent.
Citrus Cedar Scent - Updated with added notes of Lime, Sage, and Bergamot Mint. This will apply to all products with the Citrus Cedar scent.
Tobacco Rum Scent - Updated with added notes of Coriander, Cognac, and Cardamom. This will apply to solid and liquid colognes. 
Soap - Added Forest as a permanent option. Now available in 8 oz instead of 5 oz. This also comes with a price increase, but you get more soap for your money!
Mustache Wax - Now offered in Forest instead of Bay Rum.