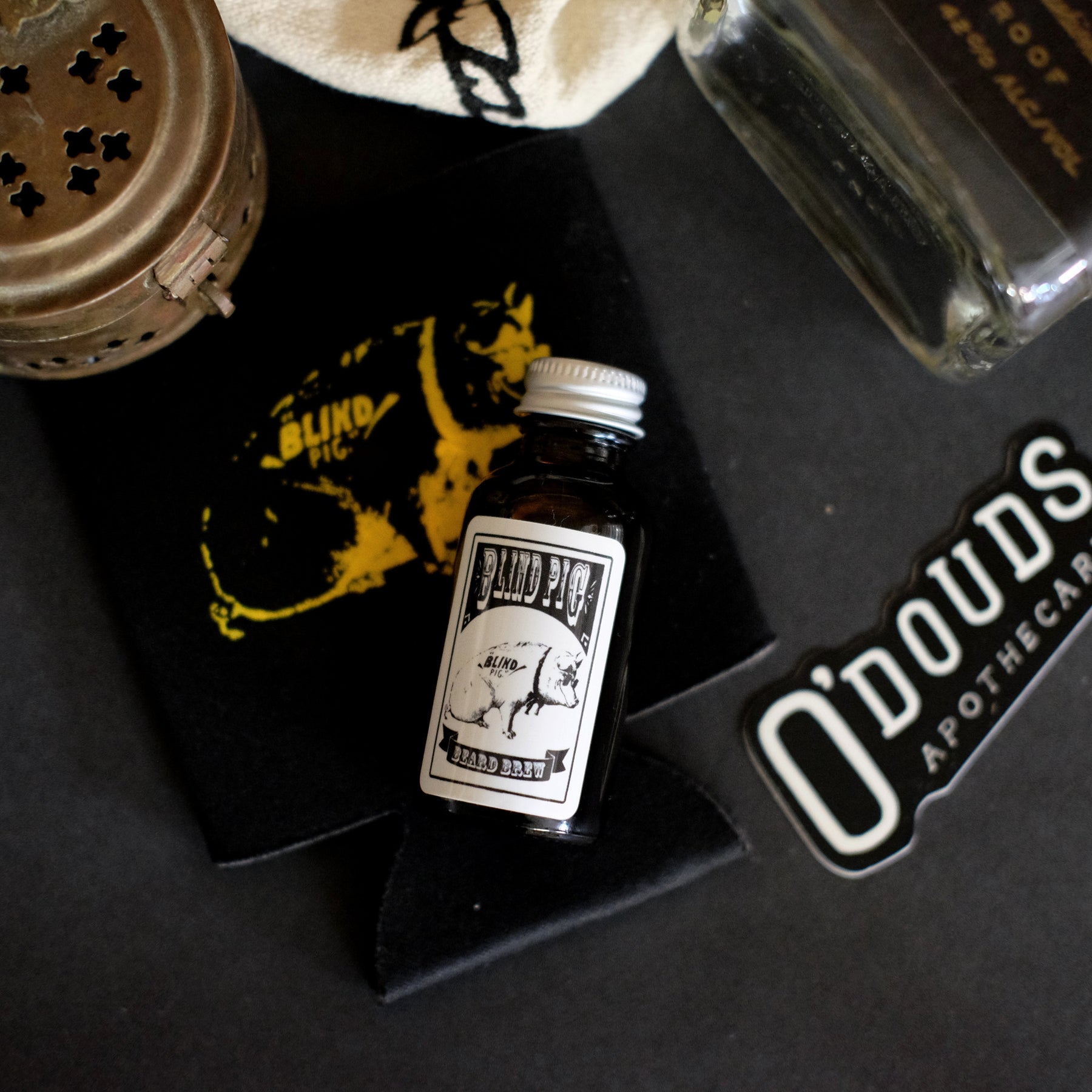 Blind Pig - Beard Brew
Blind Pig's signature Beard Brew is now manufactured in our shop and sold through our site. 
THE STORY
"Blind Pig Beard Brew started between Dani and myself (Matthew) a little less than two years ago. I was about to leave for a tour with my band Emarosa and was fairly new to the beard world (thanks to my lovely genetics). My girlfriend is a hair dresser / color educator / cosmotologenius and suggested trying a product for my beard to help with the different climates and occasional lack of bathing that comes with touring in a band. Traveling from one extreme climate to another is a pretty normal thing in touring. Mix that with sleeping on floors, in vans, and sweating profusely for an hour or so every night, it takes a toll on your skin.  

Dani and I started simply with the idea of making something for me to help moisturize and condition my beard and help it grow and stay healthy while dealing with life on the road. We started doing some research on oils and testing scents and eventually pieced together the recipe that became Blind Pig Beard Brew. Both of us are big craft beer enthusiasts and decided try a prohibition era brew theme. We first made a small batch and put it on Etsy and my social media word spread and we were getting more and more requests for the product.  

I've always been someone who prided myself in going above and beyond & my band is always trying to find new ways to put on as energetic of a performance as possible. If you're truly, whole heartedly passionate about something, there's no other way to live. With Blind Pig, once we started to organize and started thinking up a brand and everything, it was done with that same passion. Many of the beard oils we found used only a few oils and "scent." We created a unique blend of 8 oils that not only helps to stimulate growth but also moisturizes, soothes inflammations and irritations, and helps mimic the natural production of oil from your skin. All of those great benefits come with a subtle citrusy, earthy scent that should please all palates.  

I met O'Douds through a close friend who put me in contact with them. Shortly after they sent Emarosa a care package of some products to check out and I instantly fell in love. O'Douds maintains a clear vision of quality goods in a really genuine and organic way. From grooming to home goods and even apparel, you can easily tell they care about everything they do immensely. Immediately I had my buddy put me in touch with Clayton and we began talking about working together. Dani and I are extremely proud of our product and even more so to be working with a company that has the same standards and values we do. Please come say hi at a date on our US Headline tour this November and let me know what you think! 

Follow us on Facebook and Instagram - Blindpigbeardbrew 
and check out @Emarosa on all social media outlets"

-Matt
*First 28 orders will include a free Blind Pig Koozie!*
Formulated by Matt of Emarosa, this beard oil was built to work under pressure. You may find a lot of beard oils that boast their use of Argan Oil, but you won't find many that use it as a main ingredient. Rich and moisturizing and yet light and refreshing.  Give your beard the strength it needs to get through whatever life throws at it.
Size: 1 oz
Scent: Blind Pig Signature
Notes of: Grapefruit, Juniper Berry, Rosemary, & Patchouli
Ingredients: Argan Oil, Jojoba Oil, Grapeseed Oil, Essential Oils, Vitamin E Oil