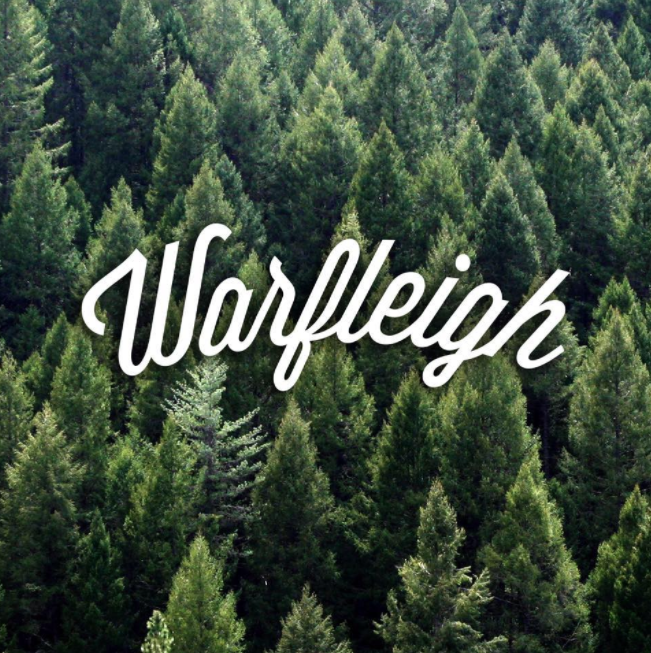 Featured Stockist: Warfleigh
For our very first Featured Stockist blog post, we got to interview Matt Jones, the founder of Warfleigh! Warfleigh Barber & Supply Co. is a barber shop located in Indianapolis, Indiana that specializes in traditional men's barbering and grooming products. We asked Matt a couple of questions about his business and his interest in our brand, and here's what we got!
How did you come up with the idea of opening up a barber shop? Let's hear about your backstory!
Warfleigh was originally only going to be a gift shop, but it was my barbers idea to put in a chair. I was going to stock up the shelves with things that were designed, but not exclusively, for men: such as pocket knives, pens, toothpicks, leather goods, and other things that fit in the pocket well. He was coming from a traditional barber shop here in Indy and had a ton of clients already, so we thought that our separate businesses would compliment each other as one. Then in March of 2015, we opened a one chair barber shop!
What inspired you to go about this profession?
Inspiration comes from so many places nowadays, but traveling is definitely one of the top contributing factors to my profession. While traveling the United States and Europe, I found that Indianapolis really lacked shops and services for men. The majority of our clients were going to salons and paying tons of money for not-so-good quality haircuts.
What do you like most about what you do?
The most enjoyable thing about owning a barber shop is seeing people gain confidence and self-esteem from a simple haircut. It really can change your life. Making people look and feel their best is our ultimate goal.
Why are responsibly sourced high quality hair & grooming products important to you?
What we put on our skin and in our hair every day could have long lasting effects on the mind and body. There are see so many brands out there using chemicals and solvents that are listed as carcinogens or known to cause skin irritation: why is that? For our business, having natural products that are ethically sourced and respectful to the environment are very important as we continue to try and reduce our impact on the planet.
Do you use pomade? What made you start?
Yes! I use O'douds Water based pomade and have been using the Winter Stockist Offering Pomade over the last few months. Before that, I was using Layrite Super-hold Pomade. I like pomades because I have an active lifestyle and I need my hair to look good and presentable for most of the day.
How did you hear about O'Douds?
I think the first time I heard about O'douds was actually through 1924US. I was intrigued by the illustrations and branding he created. It wasn't until last year that a client of ours, who knows our sales rep John, hooked us up and started the relationship between Warfleigh and O'douds.
Why did you choose to carry O'Douds products? What do you like most about our products?
We decided to pick up O'douds because we had a serious amount of clients seeking products that were both vegan and all natural. We were also looking for a company that had sustainable and responsible packaging with respect towards the environment. O'douds did all that for us! I love all the products, the simple and not overpowering scents, the ease of use, and how it is vegan and not tested on animals. These factors would be the most notable reasons I use and suggest this brand to our clients.
What is your top favorite O'Douds product? 
My favorite would be the shampoo and conditioner. They are simply the best I've ever used. My hair has never looked or felt better!
How would you describe your style?
My style is pretty basic, I guess. You'll typically find me in a pair of jeans and a t-shirt and I never leave home without my trusty Red Wing Iron Rangers on. I like durable clothing that can hold up to me being outside with my 3 cattle dogs all the time. Carhartt and UniQlo are my cheap go-to's for sure, and if my budget allows: I like to pick up stuff from Knickerbocker NY, too.  
Any trends you've been noticing in the men's grooming community lately?
The only notable trend that I've noticed lately has been matte pomades and pastes. It seems like every pomade company is competing to try and release a matte finish pomade. Some have been pretty good but others have been total garbage. I won't single anyone out. I'm really happy that the man-bun fad is fading back into the history books, too. It was definitely our most despised men's hair style.
Tell us a little bit more about your employees?
When we first opened up, it was just Cody (our master barber) and myself. We hired Nick as our second barber. He came from a very busy shop in Carmel Indiana. Casey, Matt P, and Garrett were hired right out of Barber school last year before moving to our new shop. Papa Ray (Cody's grandfather) works the reception counter three days a week to help me out, too! We feel like a big family and hang out outside of work often. We have a great crew of guys that show up every day happy to work!
What are your hopes/dreams for the future?
Dreams of opening a second shop are slowly becoming a reality. In 2018, we hope to expand and open up a second location in an unnamed city at this time. Hopefully I can elaborate more on this in the near future.  
A big thanks to Matt for the amazing interview! We hope to feature more stockists on our blog soon.
You can check out Warfleigh on Facebook and Instagram at:
www.facebook.com/warfleighbarber
instagram.com/warfleigh
Photography: Warfleigh