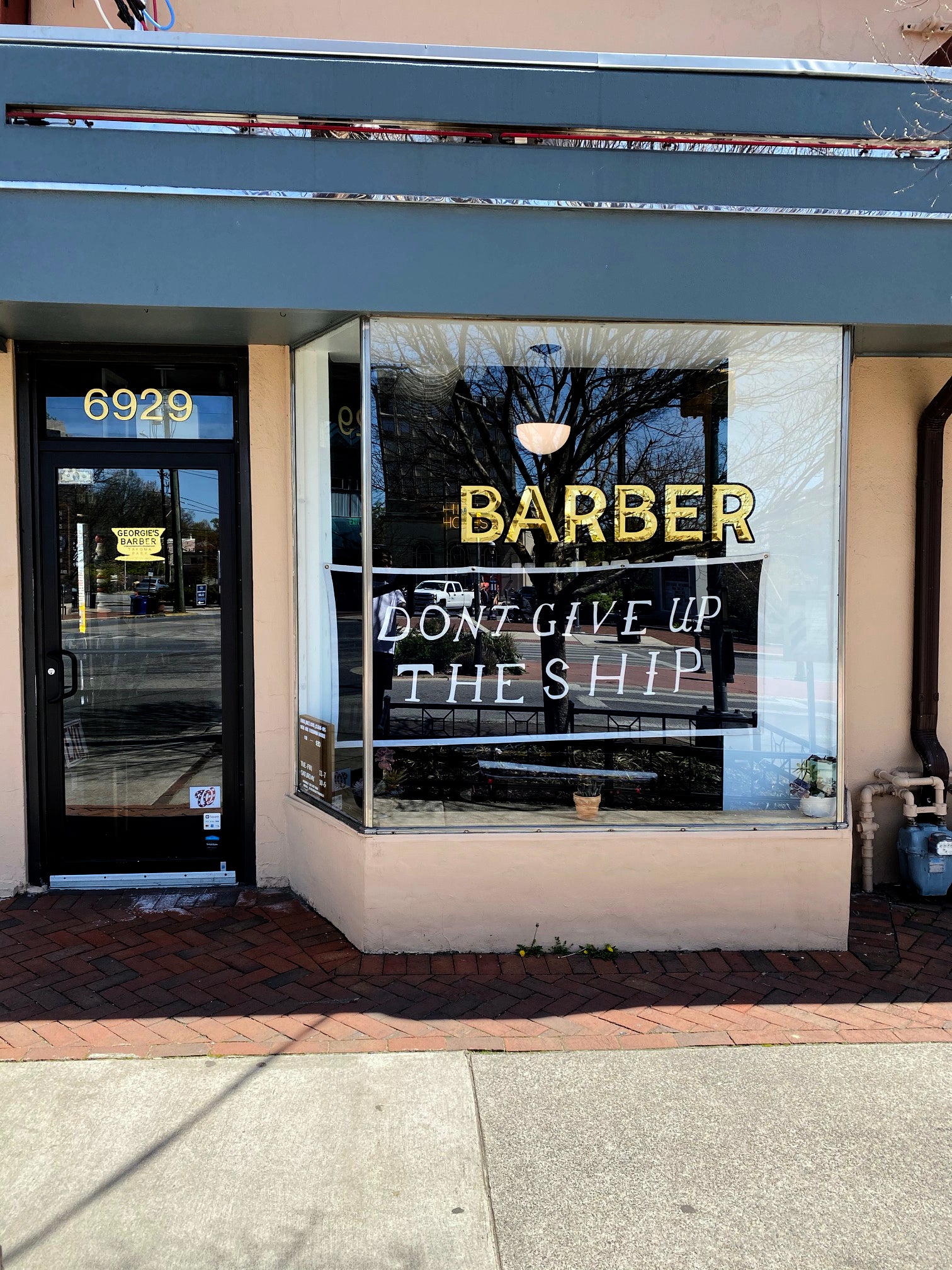 Getting to Know: Georgies Barber
If there's a team of barbers & stylists that epitomize what it means to be "Sensible Humans," it's our friends at Georgie's Barber in the Takoma Park neighborhood of Washington D.C. They are an amazing group of people and their shop will make you swoon.
In this interview, we hear from John Riley, one of the leaders of the shop and a fellow vegan and punk-rock lover. He had some great things to share:
Tell us a little about yourself, John. Where you're from, what daily life looks like for you, how you got your start in the industry, etc.
I grew up in Ohio and moved to the DC area in 1998 after finishing college. I'm lucky enough to live in Takoma where the shop is, so my commute is around 5 mins. I try to get in 45 mins to an hour before we open to get set up and make sure everything is ready to go.
Most days are pretty busy, so I'm cutting from 11-7. I got started cutting hair after making a fairly late career change. I was working in the accounting department of a nonprofit organization. I decided I wanted to do something different, so I left that job and went to school for a year, and it's worked out well. I cut my former boss's hair, so that's something-maybe I'm a better barber than I was an accountant.
What inspired the start of Georgie's?
Georgie's was started by Ian and Cortney Palmiero, who also run our sister salon down the block, Scissor & Comb. It was a big gamble to try to cannibalize your own business to open a second spot in the same small town-but its worked out so far. We just had our first anniversary, and it's been going very well.
What's the story behind the shop name and brand identity you've chosen?
The inspiration for the name comes from Ian and Cortney's daughter, who is 2-she's the real boss. Our branding is a mix of all our styles. Vintage repurposed and industrial items. Punk and hardcore flyers and tattoo flash and paintings. My old turntable is in the shop, as well as a few stacks of records from Ian and my collections. It's weird to encourage clients to "check out the bathroom," but it truly an amazing room full of vintage toys and Garbagepail Kids cards, etc.
What have been the biggest challenges you've experienced to date?
A few months ago, I would have said-starting a new shop in a new area-staffing it with the right folks with both skill and the right attitude and hoping clients would follow you to the new spot. Today I'll say, bouncing back from this unprecedented COVID-19 pandemic. We took early precautions with extra sanitation and followed the precautions as we learned more information. We made a choice to shut down pretty early before the mandates came down from the governor. It was a financially and emotionally hard decision but was definitely the right call. Our clients have been very generous with purchasing gift cards to help out. We are not alone in this struggle, and we'll get through it.
What's your favorite part of barbering and working at Georgies?
Working with people I like and respect. We have a great rapport and energy in the shop. It's great to watch everyone's talent and see how they approach haircuts differently. We all learn from each other. I love talking to my clients and learning about their lives. I definitely miss that part of the job right now. We had an online anniversary party on April 2nd-it was good to see the crew, and I can't wait to be back working along side them.
What advice would you give to someone looking to become a barber?
Do it the right way-get licensed. That being said, while you learn a lot in school-you're going to learn as much or more once you get behind the chair. Stay humble and learn from your peers. The person I apprenticed under told me "you're going to make a lot of mistakes, what makes a good barber is learning how to fix them." That still rings true with me.
What albums are in heavy rotation for you?
Oasis, and Smashing Pumpkins.... lol. Ian made me take them both off our Spotify playlist. Gorilla Biscuits-Start Today was the first record we played and still is played regularly. A healthy helping of Minor Threat, Bad Brains, Dag Nasty and other harDCore from DC. Jawbreaker, Texas is the Reason, the Promise Ring, when we're feeling emo. Thin Lizzy, Iron Maiden, the Beastie Boys....that sums up the vibe I think.
Any binge watching going on on right now?
We're not a big binge watching family. We've been working our way through the old series Justified. We're watching Brooklyn Nine-Nine as well. I feel like there's a lifetime of shows I "hafta watch" but I don't think I make the time to watch them all-maybe that's not a bad thing.
What's your favorite O'Douds product?
I love the Multi-Purpose Pomade and the Dry Wax. I use the Multi-Purpose Pomade in my hair and it's great to find a product with good hold and shine while still remaining moveable and being vegan. I've been on the search for a product that does all those things without lanolin or beeswax or other animal products, I'm very happy with what Clayton came up with. The Dry Wax is great too- good hold and low shine and pretty versatile depending on the amount you use and the application.
What's the best way for people to support Georgies?
Buy gift cards, products or merchandise if the shop has them online. That keeps some revenue coming in. Send money to your Barber by Venmo, etc if you have the means.
---
That concludes our interview with John. Make sure you check them out and support them if you have the means. They carry the majority of our products in their shop and they do incredible work!