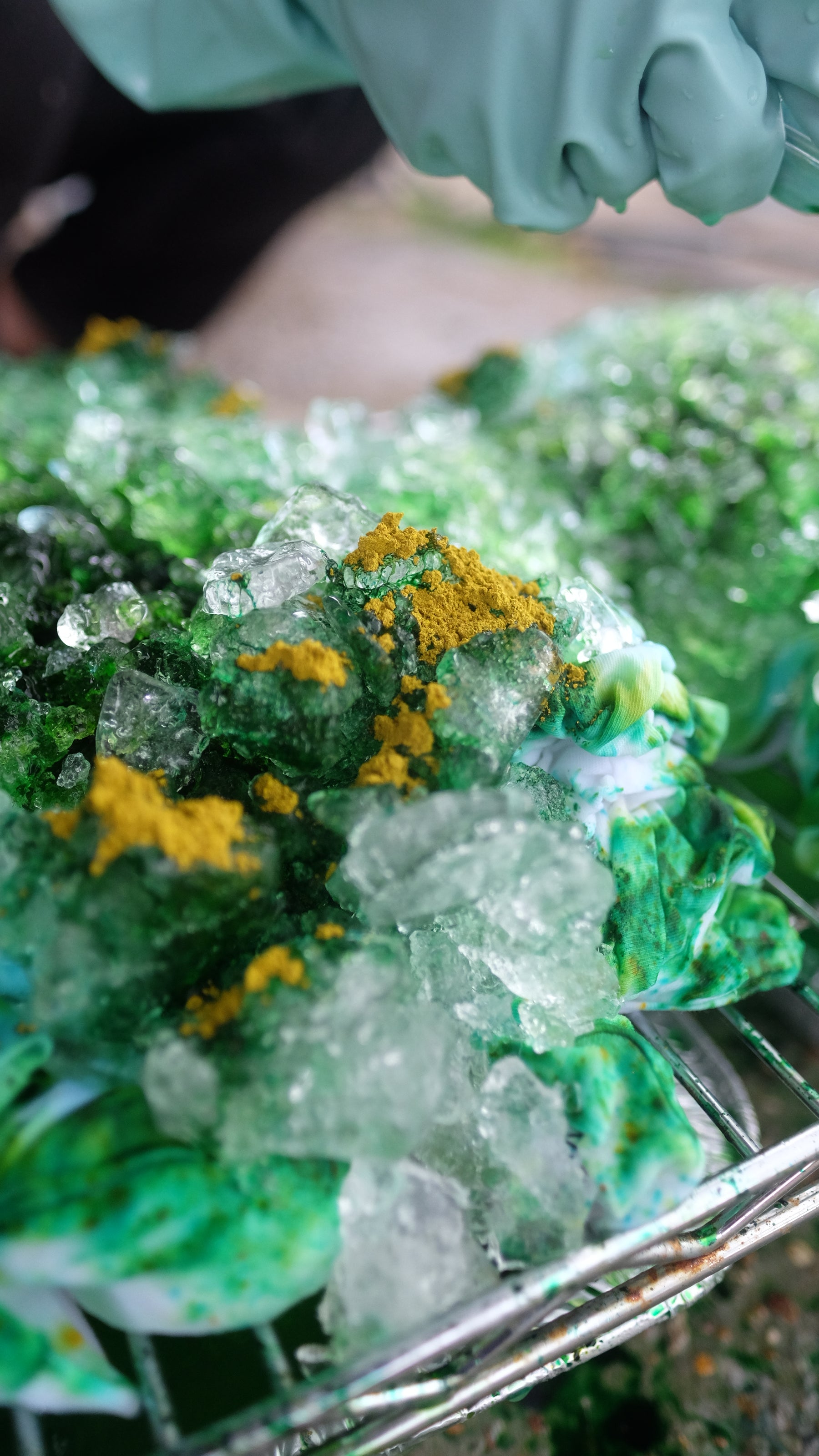 Shaved Ice Anyone?
We've received so much great feedback and questions on the dye technique in our latest summer tee's so we thought we'd share some info on the process. It's a simple and fun technique called Ice Dye and was originated by some ingenious folks in wintery weather who used snow, but in Houston where snow is a myth, we used ice.  We particularly love the super organic shapes and unknown color surprises that this process creates.
There are several tutorials out there, so there's no need to clog the internet with another one, but we will share some tips and tricks we picked up along the way.  We purchased all our supplies from Dharma Trading Co. and followed along with their tutorial. The gist of the process is to prepare your items with a special detergent and then soak them in a mixture of soda ash and water.  Fiber reactive dye will only adhere on certain fibers, you'll want to use natural fibers (cotton, linen, silk, etc) to get the most vibrant effects. 
From there, arrange your damp garments on a grate tall enough to keep them out of the puddle the ice will make, cover with ice, sprinkle on the dye powder and wait for the ice to melt and carry the dye to the material.  We found that twisting the tees and then arranging in a coil created lovely effects.  One of the fun surprises of this style is seeing all the colors that come from only one powder dye; for example, we used "lime squeeze" procion dye and it split into green, yellow and turquoise! For that reason, we found it best to limit the number of dye's used on each product to 1 or 2 and we kept the colors complementary when we used more than 1. 
Waiting to see the results is like waiting to unwrap a present! Once the ice is melted, it's time to rinse till the water is clear and wash in the special detergent again. This detergent will help to keep your garments color fast and it suspends the dye particles in water, rather than mucking up your freshly dyed garments. Now sit back and admire your work.
A few other notes, be sure to wear a mask! The chemicals used in this process are not harmful to the environment, in fact many of the chemicals are used as food fertilizers or in mass production of food, but you do not want to accidentally inhale them.  Gloves are important too!  Soda ash and water have a chemical reaction and will get very warm, a good pair of dish gloves will protect your hands from the heat.
Shop our Summer Sorbet Apparel Collection, here.