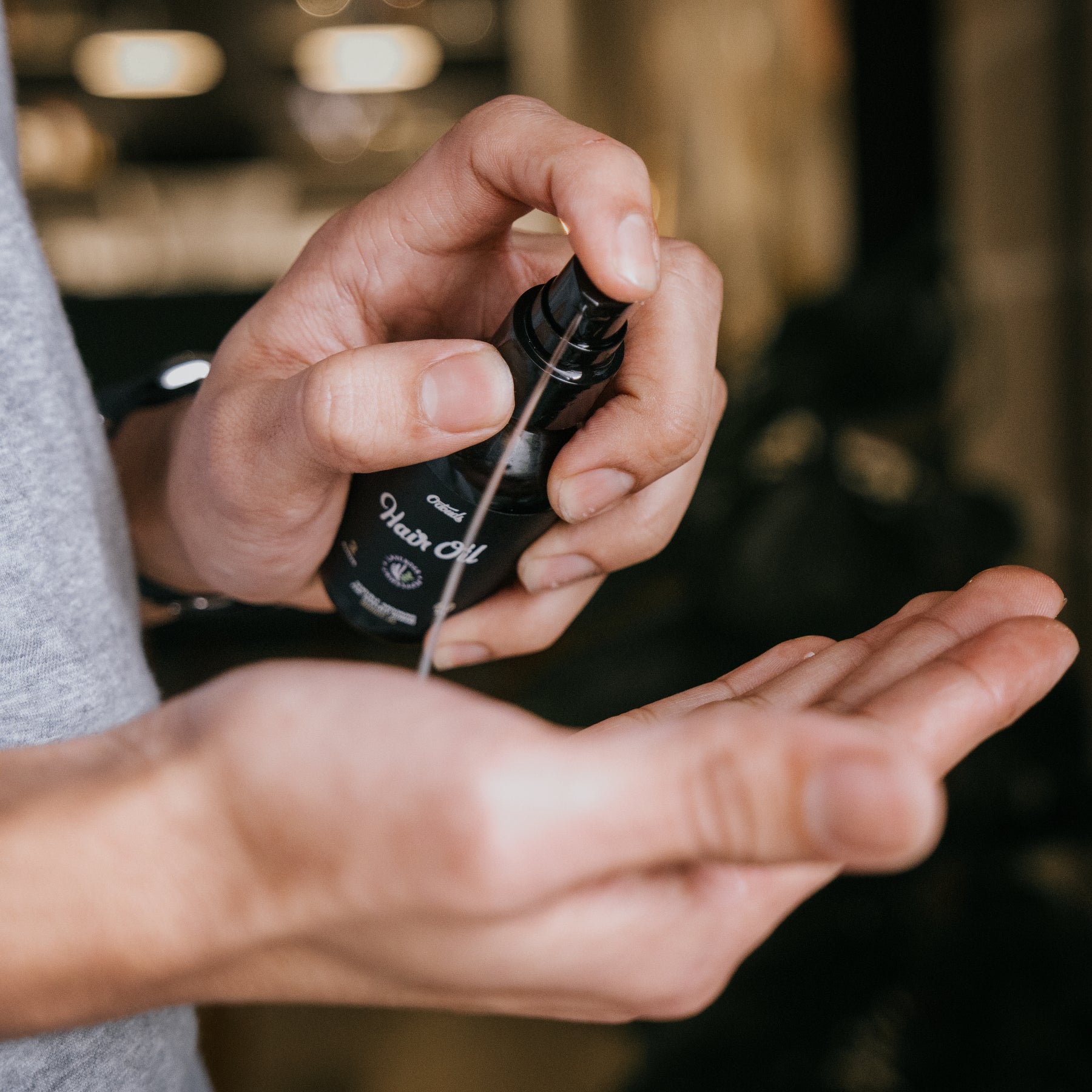 Introducing Hair Oil
Oily hair is often something we try to avoid, but the right oils (and the right amount) in your hair can be very beneficial. We're introducing Hair Oil today to bring these benefits to your hair and your styling regiment, so how does this work? 
Hair Oil protects your scalp. We use pumpkin seed and peppermint oils to soothe inflammation, dryness, redness, irritation, and general dry scalp from seasons or climates. These oils can also help to stimulate new growth by encouraging follicles to grow strong and healthy hair. 
Hair Oil nourishes your hair.  Dry brittle hair will appreciate the moisturizing benefits of jojoba oil, but even the healthiest of strands could use an extra boost.  Set your hairstyle up for success with Hair Oil as a pre-styler; use before blowdrying as a heat protectant and help to combat frizz, follow up with your favorite styling agent.  Need an extra dose of deep and nourishing treatment? Apply for a few hours, or at night, and allow the oil to rest in your hair. Then simply rinse it out with your regular cleansing routine.
Not sure where to start? 
Short Hair
Applying a pump of hair oil to short styles before blow-drying protects the hair, leaving it soft and healthy, as opposed to dried out and frizzy. The hair oil provides a small amount of control while blow-drying so that your hair actually takes the shape you want it to. This process allows you to follow up with your favorite styling product without the fear of further drying the hair. 
For a natural & free style (pictured below) loosely blow-dry the hair with Hair Oil to nourish and protect it. Then follow up with some of our Matte Paste to provide control, volume, texture, and lift to the hair. Get the Hair Oil + Matte Paste bundle. 
Hair oil can help to lightly shape short hair. Use the Hair Oil before blow-drying with a comb or brush to encourage hair to lay down flat without flyaways and frizziness. After this, follow up with a lightweight product like our Styling Treatment so the style stays in place but still looks loose and natural. (pictured below) Get the Hair Oil + Stying Treatment bundle. 

Medium Hair 
Applying hair oil in medium to long length hair has all sorts of protective and styling benefits. As your hair gets longer, it becomes more and more important that you keep it healthy. Working some moisture, such as Hair Oil, into your daily or nightly routine can be a major improvement to the long-term well-being of your hair. Beyond that, using Hair Oil as a heat protectant before blowdrying keeps your hair from being damaged, frizzy, or out-of-control.
For medium to longer lengths, (pictured below) apply an even coat throughout the hair before blowdrying. This allows the hair to dry fully but maintains its natural sheen and luster, and most importantly, there aren't any flyaways or frizz. Follow up with Texture Powder, which gives straight hair volume, texture and life. Without Hair Oil, the dry nature of a product like Texture Powder could have caused unwanted flyaways and frizz. Get the Hair Oil + Texture Powder bundle. 
Long Hair or Curly Hair
It takes a very serious hair-care routine to keep long or curly hair healthy and under control. Thankfully with a bit of Hair Oil, you can rock some of the biggest curls around. After rinsing and conditioning, apply our leave-in Conditioning Cream and allow your hair to dry to damp in a towel. Once it is semi-dry, apply several pumps of Hair Oil and evenly work it into your hair; focusing on the ends, which are most likely to dry out. Now, with two rounds of moisturizing and plenty of protection, finish off drying by blowdrying with a diffuser. Get the Hair Oil + Conditioning Cream bundle.