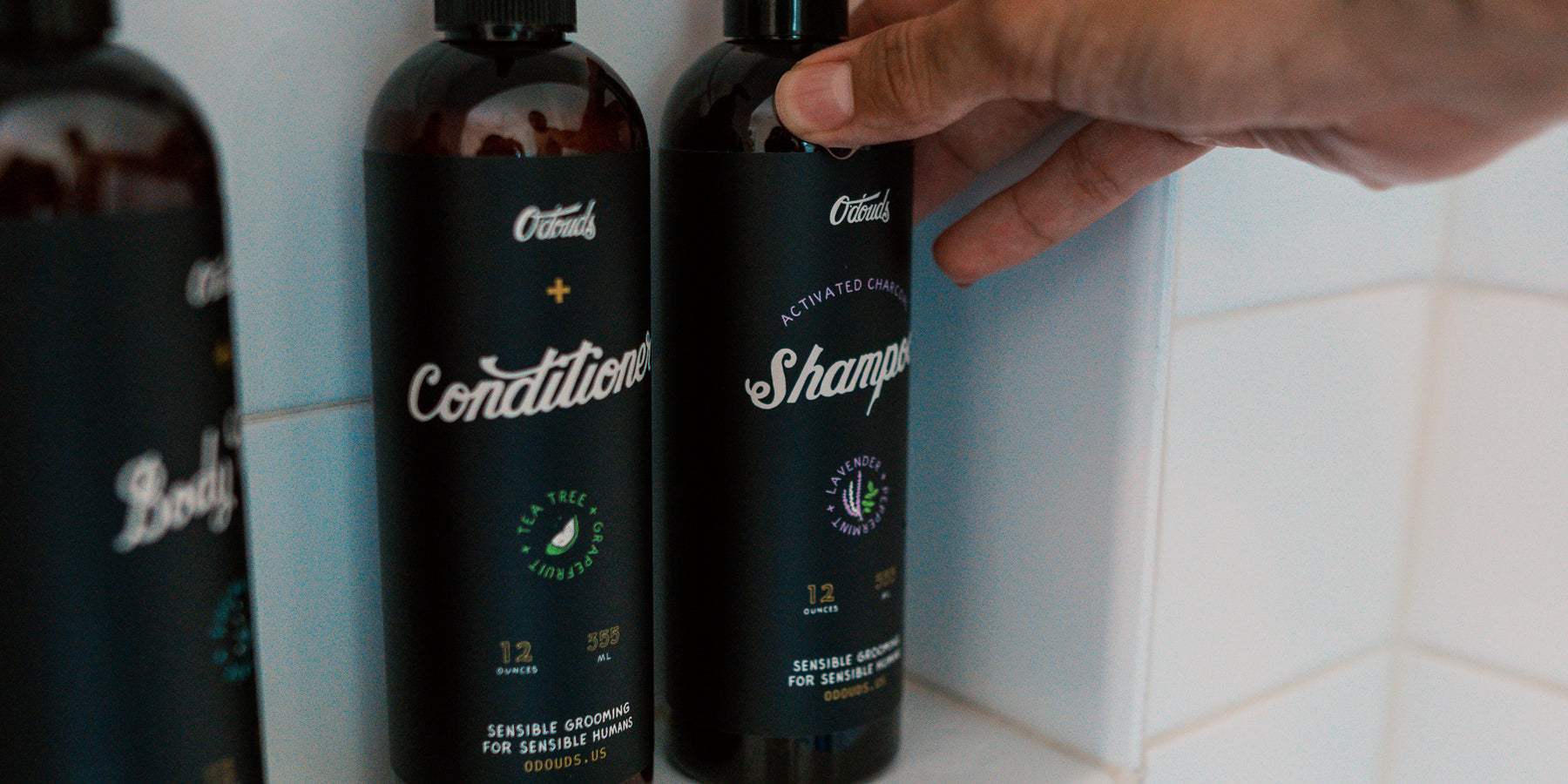 Introducing our new Shampoos
Many people assume that styling their hair begins with opening a jar of pomade or pulling out their comb, but it actually starts with clean hair - and how you clean your hair is important too!  A shower routine that suits your hair type will give you a fresh start every time you style and over time can aid in creating the very best version of your hair.
We have two options for cleansing your hair, both start with key ingredients that gently clean the hair without stripping it dry - Activated Charcoal Shampoo and Pumpkin Seed Oil Shampoo. We snagged our Lead Alchemist from The Lab to tell us about both, read on to learn more!
AMBERE:

 When should you use the Activated Charcoal Shampoo?
CLAYTON: 

Anytime you need extra cleansing and detoxifying. Oily hair types, anyone that suffers from scalp or skin irritations or ailments, and anyone that needs to remove thick or oily residue from pomades or hair treatments.
Ambere: Why did you want to develop Activated Charcoal Shampoo?
Clayton: The decision to make an Activated charcoal stemmed from a desire to have shampoo that works for more people and more hair types. As we've talked to people over the years we've learned that there's no "best of both worlds" with shampoo. Some people need a shampoo to be more deeply cleansing, if you've got naturally oily skin for example. Others have naturally dry hair and skin and need a shampoo that's more mild and moisturizing. I, for example, LOVE the new activated charcoal shampoo. My scalp gets irritated if it's not cleansed thoroughly and often, and the activated charcoal is perfect for that extra cleansing and detoxifying.
Ambere: Why does O'Douds not lather as much as other Shampoos?
Clayton: Because shampoo isn't about lathering - don't believe the lies! For real though, the harsher and more powerful the cleanser, the more foam and lather you get. Your hair needs something far more gentle than your dishes. In general more lather in shampoo is a bad thing, it means you are stripping your hair of it's natural oils. You want to leave your hair clean, but with a light layer of oil, which keeps it from being broken, dry, and frizzy.
Ambere: How does the shampoo cleanse without stripping hair dry?
Clayton: Mild vegetable based cleansers with added oils and botanicals that replenish the hair as it's being cleansed. We use aloe vera, glycerin, panthenol, and pumpkin seed oil to re-nourish the hair as it's being cleansed. Activated charcoal in particular does a wonderful job of "pulling" impurities from the hair and scalp without  drying it stripping it. Imagine activated charcoal as a sort of "sponge" soaking up bacteria and impurities out of your skin and hair.
Ambere: What would you pair our Shampoos with?
Clayton: Conditioning Cream! There's two products I use every day: Activated Charcoal Shampoo and Conditioning Cream.
 Shop all of our Shampoo Bundles here!