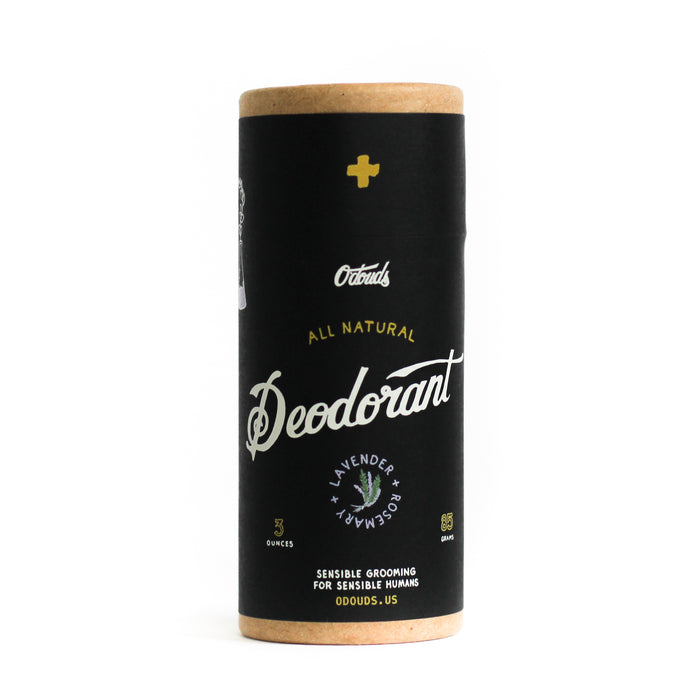 Lavender + Rosemary Deodorant
"Love the smell of this stuff. It works well for office and light duty work."
DEODORANT: Our all-natural deodorant effectively absorbs moisture and neutralizes odor for all-day protection. Not sure you believe a natural deodorant can work? Read the reviews from one of our original scents! Safer than antiperspirants that clog your pores and are associated with several harmful side effects.
Scent: Lavender + Rosemary
Usage: 6+ weeks with daily use
Size: 3 oz / 85g
Total Weight: 4 oz / 110g
KEY INGREDIENTS:
- Arrowroot Powder: Absorbs odor, oil, and sebum, reduces oil production, and gently heals dry or damaged skin.
- Coconut Oil: Moisturizes dry, irritated, or inflamed skin while providing antioxidant and anti-microbial benefits that fight against odor.
- Jojoba Oil: Rich and nourishing yet easily absorbed, Jojoba oil is more similar to the skins natural oil than nearly any other oil. 

Tips & Tricks
Directions: Apply 1 or two swipes to each underarm, a little goes a long way. Applying excess will simply cause it to fall off, it will not provide added absorption.
New to natural deodorants? If you are currently using an antiperspirant your body has been trained to over-produce sweat. Sweating is natural, so when you use an antiperspirant, which blocks the pores, your body adjusts to the blockage and attempts to over-produce sweat as a way to get around it. Allow 1-3 weeks for your body to adjust to normal sweat production - you may find that you actually sweat less than you did before.
Ingredients
Ingredients: Maranta Arundinacea Root (Arrowroot Powder), Cocos Nucifera (Coconut) Oil, Candelilla (Euphorbia Cerifera) Wax, Sodium Bicarbonate (Baking Soda), Kaolin, Simmondsia Chinensis (Jojoba) Seed Oil, Butyrospermum Parkii (Shea) Butter, Tocopherol (Vitamin E Oil), Lavandula Officinalis (Lavender) Oil, Rosmarinus officinalis (Rosemary) Leaf Oil, Citrus Limonium (Lemon) Oil, Cistus Ladaniferus (Labdanum) Oil, Citrus Sinensis (Orange) Oil