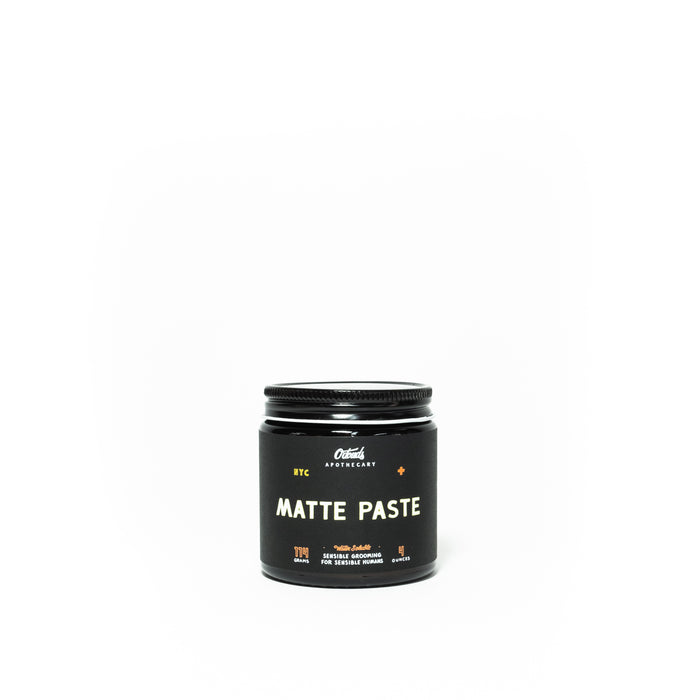 MATTE PASTE: A strong hold, matte finish styling clay for maximum volume and texture. Our best selling hair product for a reason, this paste adds life and lift to any hair type. For styles ranging from short and choppy, to loose and textured, and even large and voluminous.

Hold: Firm
Finish: Matte
Scent: Labdanum & Lime
Size: 4 oz / 114g
KEY INGREDIENTS:
- Kaolin Clay: Adds volume and lift to the hair without drying or breaking it. Kaolin balances moisture on the skin and acts as powerful cleanser and detoxifier. 
- Carnauba Wax: A potent wax that provides a strong and pliable hold with an extremely high melting point.
- Vegetable Glycerin: A lightweight yet highly effective moisturizer that maintains the skin and hairs moisture without adding any weight or shine.
Tips & Tricks
Directions: Scoop out product and lightly spread onto hands, do not over-work the product in your palms. Apply to dry hair for increased volume and grip, or to wet hair for more loose and natural styles. Blow-dry for increased volume.
Tips & Tricks: Apply Matte Paste to completely dry hair for best consistency in hold and matte finish. Matte Paste can be used to finish a multitude of styles ranging from cropped & textured, loose & natural, and even large & voluminous.

When I go to apply the Matte Paste it ends up flaking off into my hands. What is the best way to prevent this from happening?
A: What makes O'Douds Matte Paste extremely unique is its creamy consistency and ability to be easily rinsed-out and cleansed from the hair. This consistency is made possible by an intricate blend of water, kaolin clay, and other waxes / oils. If O'Douds Matte Paste is too vigorously pressed into the hands, the water, waxes, and oils in the product get absorbed into the palms. When this happens, O'Douds Matte Paste will not function as it is intended. For the best results, we suggest gently spreading a smooth layer of product onto the palms and then spreading it evening through the hair. You will then experience every ingredient and the true design of O'Douds Matte Paste.

What is the difference between your Dry Wax and Matte Paste?
A: Although both O'Douds Dry Wax and O'Douds Matte Paste do not add shine to the hair, each product differs in function, strength, and sheen level. O'Douds Dry Wax is our strongest holding product in the line. It provides maximum control and maintains the hairs natural sheen, making it ideal for shaping the hair into any style. O'Douds Matte Paste offers a firm hold that maintains shape all day, but still moves. This product provides lift and volume that continues to flow while reducing the natural sheen level of the hair to a matte finish.
How can I recycle my jar?
A: All of our jars, lids, and bottles are easily recycled. We recommend researching your local guidelines on separating recycled materials, drop off center locations, and curbside pick-up schedules.  Don't forget to rinse out the remaining product from your jars and bottles and remove the lid to recycle separately. The Earth thanks you, and so do we.

Ingredients
Ingredients: Aqua, Kaolin Clay, Copernica Cerifera (Carnauba) Wax, Glycerin, Ricinus Communis (Castor) Seed Oil, Oryza Sativa (Rice) Bran Wax, Hydrogenated Olive Oil, Emulsifying Wax, Phenoxyethonal, Caprylyl Glycol, Sorbic Acid, Cistus ladaniferus (Labdanum) Oil, Lavandula Officinalis (Lavender) Oil, Juniperus Virginiana (Cedarwood) Oil, Citrus Bergamia (Bergamot) Oil, Citrus Aurantifolia (Lime) Oil, Citrus Reticulata (Mandarin) Oil