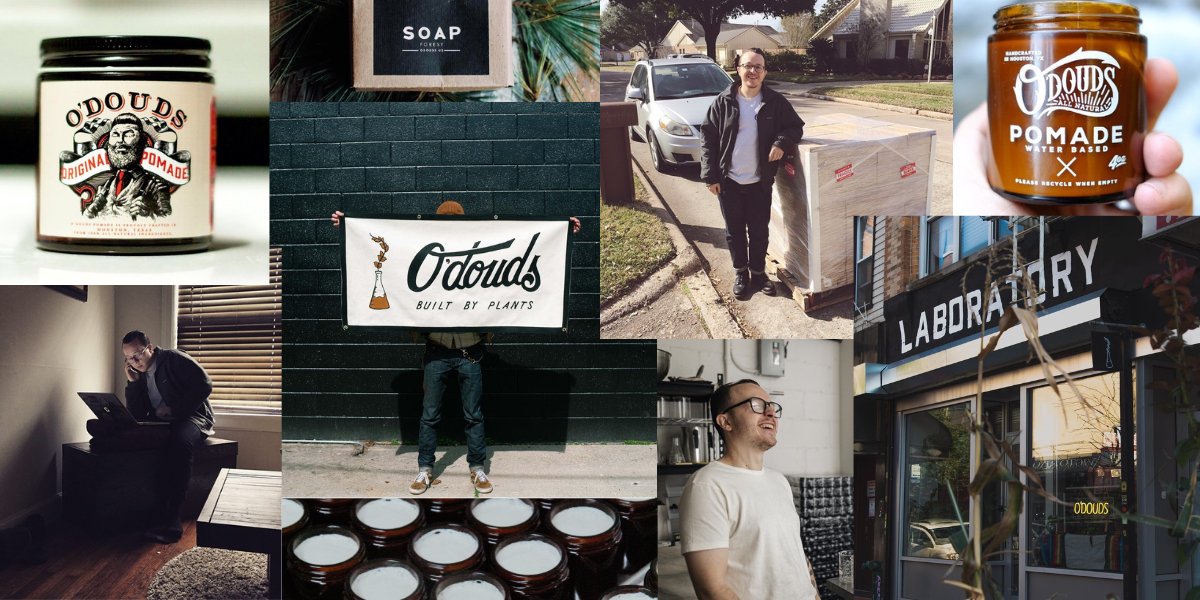 Celebrating 9 Years: The O'Douds Journey - From Roots to Blossoms
October's rustling leaves bring with them a special resonance for O'Douds. As nature adorns herself in shades of amber and gold, we pause to look back at our journey - 9 years of nurturing, growing, and evolving. Much like a sapling that has grown into a sprawling tree, our roots have delved deep, and our branches have reached new heights.
As we stand on the brink of our 9th year of all-natural sensibility, we're filled with gratitude and an unwavering passion. Follow along on our journey through our past 9 years.
---
A Sapling Takes Root:
Clayton, our driven founder. With a phone in hand in their bedroom, they curated the foundation of what was more than just a brand - it was a vision for a sensible choice in the haircare community.⁠
Our story began as a tiny seed - a dream to create products that embodied the best of nature and science. And like any new sapling, the early years were filled with learning, adapting, and building resilience. Our focus wasn't merely on selling products; it was about fostering a relationship with our customers, understanding their needs, and continuously striving to deliver better.
---
Branching Out:
As seasons changed, so did O'Douds. With every challenge faced, we grew stronger, branching out into new avenues, expanding our product range, and incorporating feedback into our formulations. We owe our growth not just to our unyielding dedication, but also to our community of loyal customers who believed in our vision and supported us through each phase.
2014. A landmark year. What you see is more than just a large shipment. It's proof that dreams, when pursued with tenacity, do come true. Partnerships and collaborations to spread all-natural goodness.⁠
The Big Apple! 🍎 Our brief, bustling chapter in New York, where our brand was embraced with open arms. A city of boundless energy, dynamism, and countless aspirations - provided an invaluable chapter in our story. It was in the beating heart of this metropolis that O'Douds flourished, expanded its community, and truly recognized its potential.
---
Blossoms of Today:
Coming full circle, we returned to Houston, the very soil where O'Doud's sprouted its first roots, where our very first jar of pomade was conceptualized. This city not only reminds us of our humble beginnings, but it also strengthened our commitment to growth, innovation, and sustainable choices.⁠
Today, standing at the threshold of a decade, O'Douds is not just a brand; it's a community, a philosophy. It's an ode to sustainable choices, ethical sourcing, and a genuine commitment to our patrons. We have incorporated fun, color, and vibrancy, all while ensuring we remain rooted in our foundational ethos.
---
Looking Towards the Horizon:
As we embrace October and our 9th birthday, we not only reflect upon our journey but also gaze at the horizon, with dreams and aspirations for the future. Our commitment to sustainable, ethical, and high-quality products remains unwavering. But we're also excited about the future avenues of growth, of reaching out to more people, and of furthering our mission to bring a splash of nature's best to daily grooming routines.
---
An Ode to Our Community:
At the heart of our success lies our vibrant community. Our wholesale customers, our single-chair affiliates, barbershops, and every individual who ever chose O'Douds – you are our pillars. This birthday, we don't just celebrate our growth, but the collective journey. The shared stories, the feedback, the critiques, and the love - they've been instrumental in shaping us.
---
October may be a month of change, a time when leaves fall, and nature prepares for another cycle of growth. For O'Douds, it's a reminder of our journey, of our roots, and the blossoms we aspire to be. As we step into another year, our spirit remains unchanged – to grow, to evolve, and to always, always remain grounded.
Here's to many more Octobers, to growth, to memories, and to a future filled with blossoms!
Cheers to 9 years and many more to come! 🍁🌱🎉