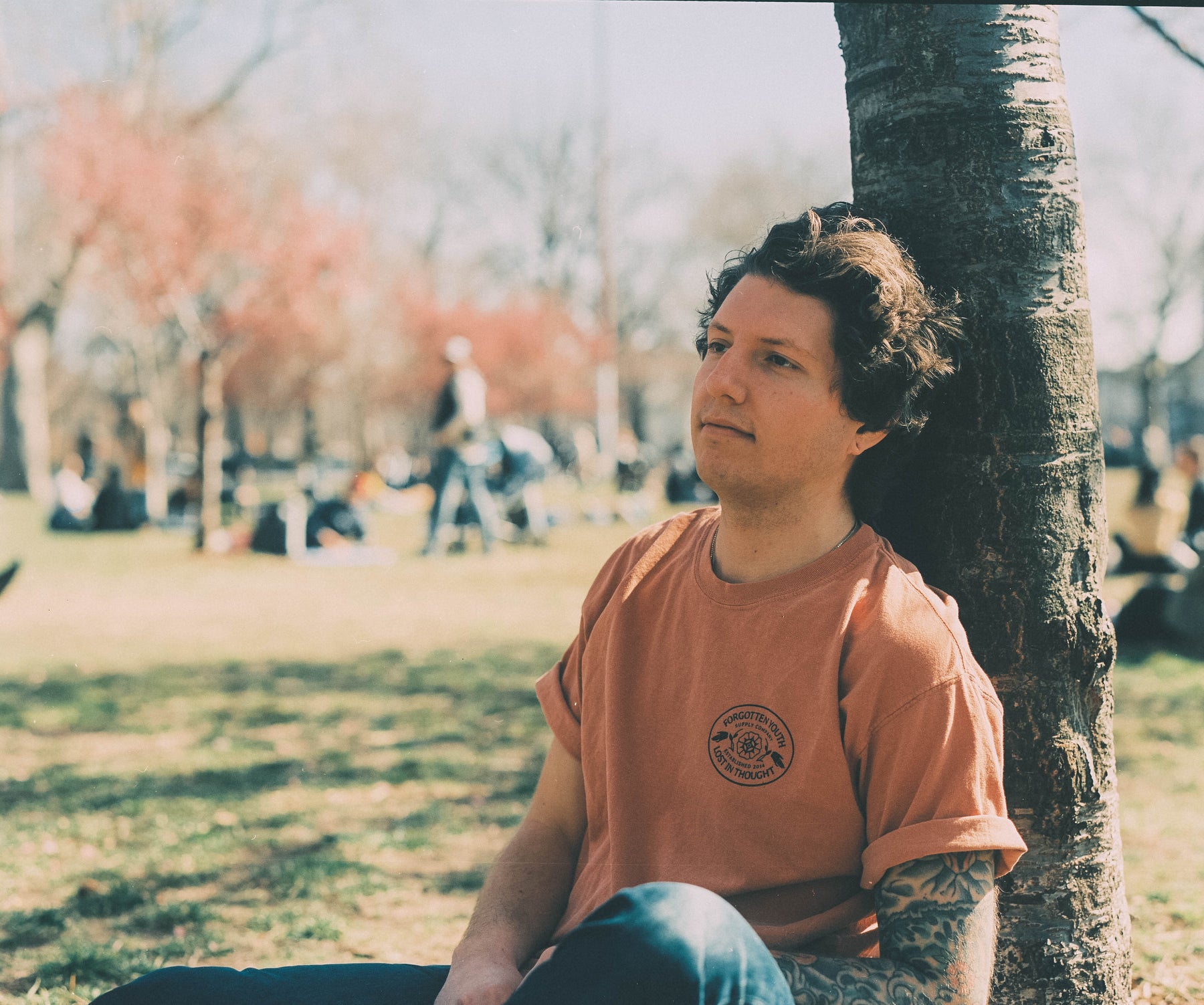 Getting to Know: Forgotten Youth
Today, we're hearing from our friend, Patrizio Arpaia, founder and creative leader of Forgotten Youth -- a lifestyle brand curating a community influenced by Surf and Skate Culture, Art and Music. We've had the privilege of working with Forgotten Youth for a couple of collaborations and we love them dearly.
As is the case with us, Forgotten Youth is a small but growing business that could certainly use our support during this time. Patrizio offers some great perspective here. We hope you enjoy! 
Tell us a little about yourself, Patrizio.
Hello there, My name's Patrizio Arpaia, my home is Ridgewood, Queens but I'm originally from Fairfield County, Connecticut. I'd say 95% of the time I'm in my office focusing on Forgotten Youth, talking with my plants, staying creative and doing my best to maintain balance. Outside of FY, I'm a Barista part-time at a local coffee shop.

In my free time though I'm chilling with loved ones, skating Cooper Park early in the AM, listening to music or surfing Rockaway whenever I'm able to. One thing that remains consistent is my espresso + jibby morning combo, no one can't take that precious time away from me! Hahaha!

Before the brand, I used to be a vocalist in a couple Metalcore bands which played a huge part in directing my life to where I am now. Without the experience and knowledge I gained from those years in music, Forgotten Youth would be nothing. During that time, I was in charge of merchandising and loved every aspect of it. I had a blast conceptualizing designs, working with artists and bringing those ideas to life. Which introduced me to friends whom I continue to work with now after 7 years. Relationships I'm so grateful to have built. Special shoutout to Mason Starkey, Legacy Printing, and Adam Barabas.


What inspired you to start Forgotten Youth?
I felt this pull to create something that encompassed all aspects of the lifestyle I never experienced in companies growing up. At the time I was just graduating college and wanted to create something I truly believed in outside of music. A pursuit I could envision myself doing longterm that supported the life I wanted to build.
I envisioned FY to be an entity that embodied all influences of my world (surfing, skating, music, art)  into one, but with an aesthetic separate and original to it's own. To be honest there wasn't a brand that represented what I was yearning to see, so I decided to present my own vision of what that was.  It's been over 5 years now and still haven't scraped the surface. I couldn't be more grateful for the love and support we've received as we continue to pursue our dream.
What's the story behind the name and brand identity you've chosen?
I spent my whole college career pursuing something that didn't fulfill me. Though I don't regret a thing, I was haunted by living a life I never envisioned myself having. For the sake of a false narrative I "believed" to be true. I graduated with a biology degree but never wanted to pursue a career in science. At my core, I yearned to create something that stood for the freedom of imagination and embracing the thirst for adventure in any aspect of reality.
I find looking at life through a youthful lens creates a much more fulfilling experience than always living in your shadow. Forgotten Youth is lifestyle brand that brings a community of like minded individuals together, from surf and skate culture - art and music.
Regardless of what facet of life you come from we all find ourselves connecting in more ways than one might think, which opens up a whole new world to experience. We want to connect those bridges and build a brand that empowers you to explore your mind and speak your truth. A reminder that you may get old but never loose your Spirit. Surround yourself with what fulfills you.
We convey this message visually with the support of our 'Bloom' Icon ... a blooming rose, something we feel truly defines what we stand for as a brand as well as the intention we aim to evoke, GROWTH.


THE FLOWER IS THE MOST MEANINGFUL PART OF THE CYCLE OF LIFE.
A REMINDER WE ARE IN A CONSTANT SURGE OF GROWTH AND CHANGE.
STABILITY IN ROOTS.
A VENTURE THROUGH THE MIND.
THE GREAT HIDDEN SEA OF THE UNCONSCIOUS.
A VISUAL REPRESENTATION OF OUR INTENTION.
BLOOM.
What's most important to me is the message a brand conveys to the people. Our goal is to promote the importance of self expression, exploration, awareness and use of imagination.
What have been the biggest challenges you've experienced to date?
Overcoming my ego. No longer allowing my fear shadow the true reality I'm able to experience. By letting go and trusting in the process. I used to second guess every decision I'd make and never had the confidence to push forward on my own until recently. Through trial and learned experience, the past 5 years have taught me how to create a secure foundation to build off of.
What's your favorite part of the job?
The fact that I don't ever consider this a job. I still can't believe it sometimes, it's mad surreal! Hahaha!
What advice would you give to someone looking to start out in the industry?
If you have a gut feeling, trust it.
Quality over Quantity.

Explore your boundaries and find what doesn't serve your growth.

Believe in your worth.

Meditate. Observe your thoughts and learn to know yourself.

The way I approach my life is like a river. Don't be a rock and wither away against the current, be the current and flow with it. No matter what happens.

Trust what you create. Find beauty in flaws and learn from your "mistakes".

If you see the opportunity to gain a higher perspective in any situation, you will overcome. There's always more than just one perspective.

If what you create is an authentic reflection of you, people will resonate.
No one can take that away.

What albums are in heavy rotation for you?
Crumb - Jinx
MIKE - War in My Pen
YUNG MORPHEUS - Black Schemata
GZA - Liquid Swords
Gulch - Burning Desire to Draw Last Breathe
MAVI - Let the Sun Talk
Nils Frahm - Spaces
What shows have you binge watched lately?
I'm almost done rewatching Full Metal Alchemist Brotherhood. I've also watched...

Demon Slayer
Curb Your Enthusiasm
High Maintenance
Letter to the King
Favorite O'Douds product?
I have three!
What's the best way to support Forgotten Youth right now?
Feel free to check out our products via our website.
We just released our latest Spring 20 Collection with a bunch of new products
---
That concludes our interview with Patrizio. Please make sure you give Forgotten Youth a follow on social media and check out their online store!