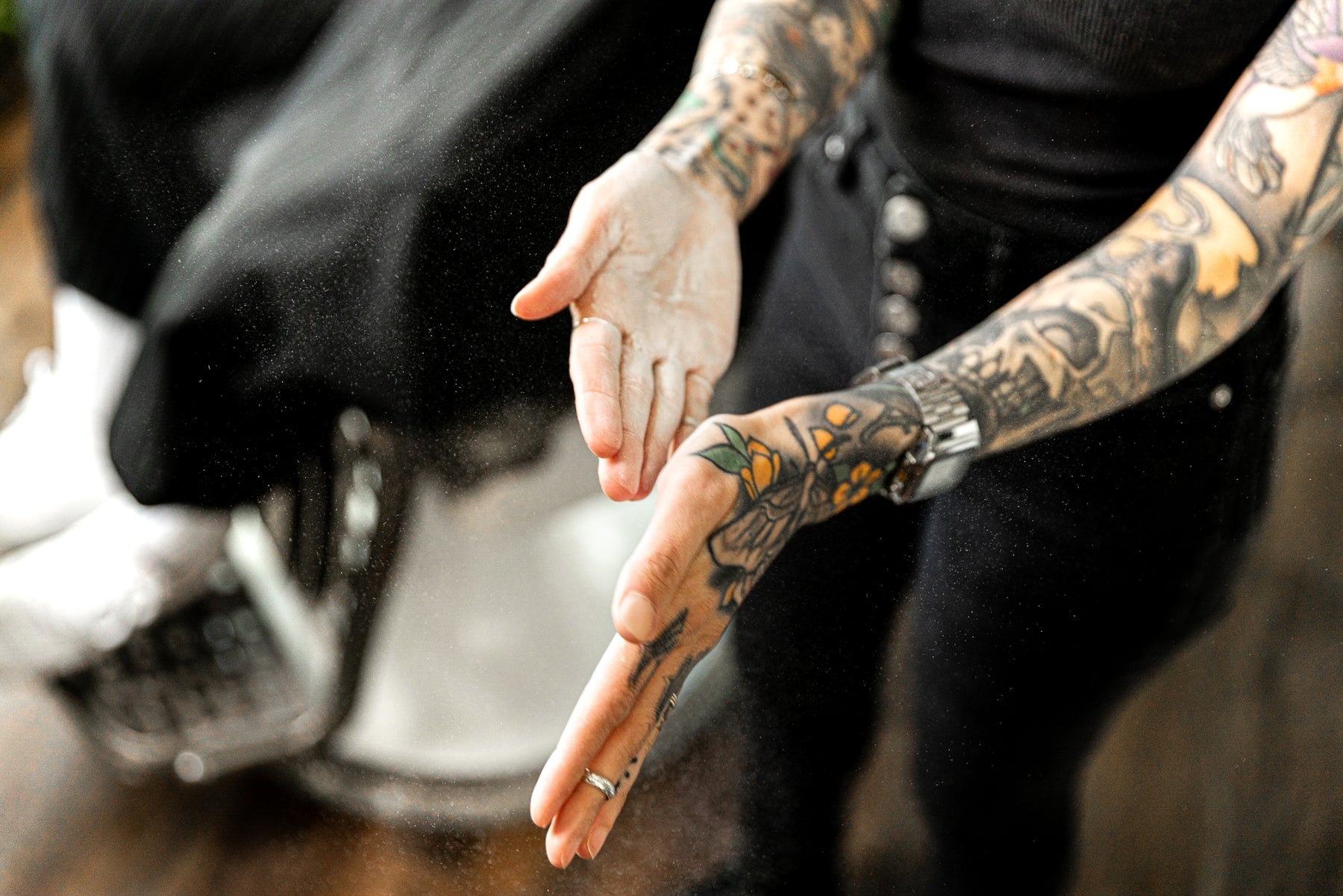 Let's Talk Texture Powder!
Welcome back! Last week, we gave a bit more information about our cult-classic, Dry Wax and the variety of ways it can be used to create the perfect hairstyle. Now it's time to dive into another fan-favorite, our Texture Powder!
Designed to reduce shine and work with your hairs natural oils, our Texture Powder is the go-to product to add volume to "day-after" hair. It can be used as a dry shampoo to reduce the appearance of oils in hair as well as helping hair appear more full. This week, we had the opportunity to interview Short Hair Architect and bad ass stylist, Linzy Beth (@_linzybeth). 
Linzy gave us an inside look into her tips and tricks for styling hair with our Texture Powder. From pairing with our other styling products to create Instagram Worthy looks to adding just the right amount, giving your hair the definition it needs-this stylist has got it all for you! Interested in learning more? Take a look below! 
So, let's talk Texture Powder!
AMBERE:

 What's your go-to technique in applying Texture Powder? 
LINZY: 

First and foremost- on DRY hair! Ha, it seems obvious but the reminder never hurts. I typically tap the bottle like I'm seasoning the hair. You can always add more, and a little goes a surprisingly long way. My other move is to sprinkle a little on my finger tips to work it in more at the root without getting it all over the scalp.
Ambere: What type of client do you usually recommend Texture Powder for?
Linzy: I typically recommend Texture Powder to two types of clients; the first is someone with fine hair looking to build volume, and add definition. Someone who wants to wear product but maybe runs into the problem often of things being too heavy or greasy. Second is anyone with short hair looking for loads of touchable texture! It's fantastic on its own or as a building block.
Ambere: Do you pair Texture Powder with any other product for certain looks?
Linzy: I do! I love to pair it with the Sea Salt Texture Spray for a little more hold, while still having that undone feel. My other favorite combo is to add a little Dry Wax on top, especially for those clients looking for that Instagram worthy crop loaded with definition. It locks in that texture for wherever the day takes you and still washes out like a dream.
Ambere: What made O'Douds stand out to you?
Linzy: My shop in San Diego was searching for a new product line to carry, and O'Douds stood out to us so much. First and foremost, the attitude! I love that it's inclusive and thoughtful, it was a product that considered who used it, who made it, and every step in between. The scents are all different but cohesive and so natural, it's a really comfortable product to wear. Not to mention the packaging is flawless!
Ambere: What's your dream collaboration and why?
Linzy: Ooo I have never thought about this! I would probably say with @by.jelle they are a barbershop in the Netherlands and their style is just flawless!
Ambere: What trends are you currently into?
Linzy: I am loving all this long hair the pandemic has set free! So many fun 90's inspired cuts, with clients who have never explored their length or texture. I also feel like the Caesar inspired crop is finally making its way to Texas and it's been a lot of fun. 
Ambere: What do you love about your job?
Linzy: Whew, how much time do you have?? Honestly everything. I love the interaction, the relationships you build, the journeys you go on. And I love the creative freedom, both with what I can create but also how I can present myself. Also who doesn't love making people feel their best!? It's so satisfying.
Shop all of our Texture Powder Bundles here! 
Check out the other products in our "Let's Talk about" series below: