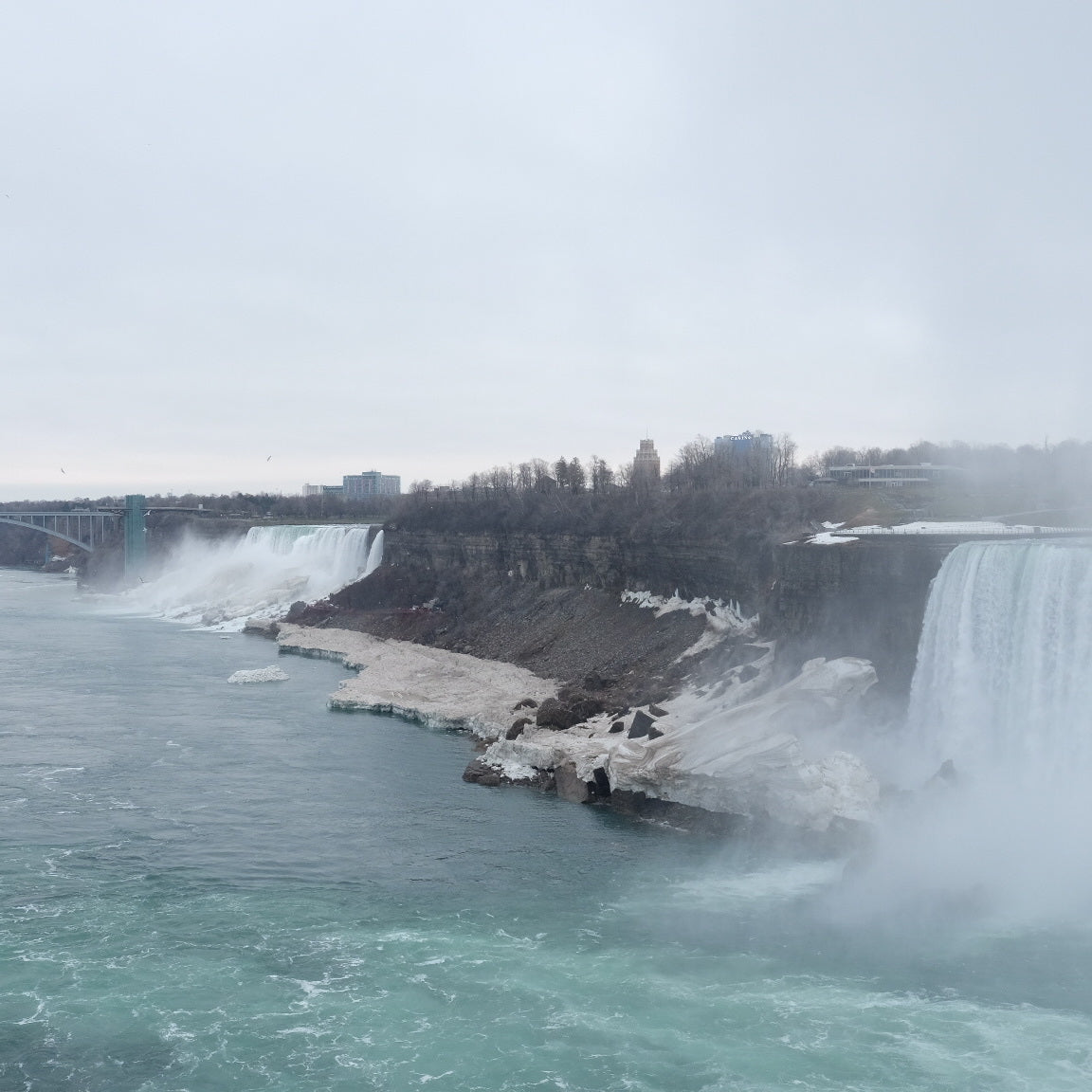 O'Douds on Tour: NY, Canada, PA Recap
Welcome to part two of our "O'Douds on Tour" series. In 2019 we've made it a priority to do more traveling in order to build relationships and hear from more of our customers. It's easy for anyone to get stuck in their own way of thinking, but we make products for people all around the world, and we think it's important to hear from them (you) directly. So, we decided to hit the road to meet up with some of our old friends and make some new ones. 
The first trip we took was through the Northeast and into Canada! Our good friends and Canadian distributor Toucan Trading were presenting our goods at a trade show, so we took the opportunity to drive up there and visit some folks along the way.
Our first day was mostly dedicated to getting to Canada, but we were able to stop in at a few long time friends on our way there.
Upstate New York
The Local Branch have been carrying our goods for years now. They were one of our first New York stockists after moving out here from Texas. At the time, they had a semi-permanent pop-up in Chelsea Market. Since then, they've moved out to Skaneateles, NY, where they've built out their very own store, and have been working on tiny houses, airstreams, and have built out a new endeavor, The Kester Homestead. Everything they do is so well curated and we're truly honored to work with such a talented team. If you need something to do in Upstate NY, make your way out to Skaneateles, it's beautiful, and you'll be sure to have a good time.
If you follow us closely you may know that we LOVE food and that most of our team is vegan. So, a road trip for us means we've got an excuse to eat some good food. In my opinion, eating is a great way to see a city on a more real level. Finding cool restaurants ends up taking you to cool areas that are worth exploring. Right before making our way into Canada we passed through Buffalo, NY, so the decision for food was obvious - Buffalo Wings. You may be thinking, can you really find vegan buffalo wings that are worth eating? Yes, hell yes. Root & Bloom Cafe was the perfect stop for us.
Canada
After a solid 8 hours of driving we made our way to Canada just in time to visit a charity event hosted by Crow's Nest Barbershop. They've teamed up with VOKRA (Vancouver Orphan Kitten Rescue Association) to do a series of silent art auctions. They are working with local artist to create unique "lucky cat's" and donating all of the proceeds to VOKRA. It's always exciting to get to see our partners going above and beyond to help their local communities, so we were stoked to visit. Here's a few of my favorite cats:
The next day we were able to stop by a few more of their locations. This talented team has 6 different locations, all unique in their own way and built to serve their community. If you are in the Toronto area and need a good barbershop, don't pass these folks up. Here's a few more of my favorite shots from their shops. 

Toucan Trading is our new Canadian distributor and they've been an absolutely incredible partner for us so far in 2019. It's run by the same team behind Crow's Nest Barbershop with a goal of delivering quality grooming products to more barbershops in Canada. They were hosting a booth at Revel in Beauty, showcasing our products and even demonstrating how to use them with some barbers. We had the great opportunity to spend most of the day there talking with people in the industry, which is legitimately one of my favorite things to do. There's so many different perspectives on cosmetics, and learning what people want out of their grooming routines is exactly why we are doing this road trips.
Oh, and of course, Slow & Low was consumed.
The Beau and Bauble is one of our oldest Canadian stockists, and for a long time was one of the only places you could get our goods from. They went the extra mile to carry our products before we had Canadian distribution. If you don't know, it's very hard for an international store to carry foreign products, there's simply a lot of red tape, and oftentimes it's too much of a hassle. The selection of goods at Beau Men's was super diverse and fun, and we had a blast hanging out in there and talking music and Game of Thrones.
That wrapped up our quick trip to Canada with only one more stop to make on our way out of town. Niagara Falls!
Pittsburgh, PA
The folks at Studebaker Metals have been good friends of ours for a while, and it was a truly inspiring experience to get to visit their workshop. Their team is of all of positive energy and we had such a good time collaborating with them and talking shop. Our products may not have much in common, but we are both defying industries built on mass-manufacturing, so many of our struggles and hurdles are the same. We've got an incredibly cool collaboration coming out with them soon. So keep your eyes peeled for that. In the meantime, here's some photos of their facilities!
Franklin & Mercer is THE premier menswear store in Pittsburgh, bar none. This shop is incredibly designed and curated with a rotating selection of goods based on the season. We've been with Ryan since he opened the store less than a year ago, and watching his vision unfold has been incredible. If you are in Pittsburgh, this shop is a must-visit, I can't stress that enough.
McVeytown, PA
Gritwell is truly a diamond in the rough. You may think that while driving across Pennsylvania there's not much to see, but you'd dead wrong. No-matter where we were in Pennsylvania people knew of Gritwell. Right off the highway, this store specializes in upholstery and leather goods, and they are damned good at it. The inside of their store feels like a museum, it's incredibly curated, down to the smallest details. If you find yourself anywhere near Mcveytown, go out of your way to visit these folks, it'll be worth the trip.
--
Trips like this are proving to be invaluable to us. We get to meet some incredible people and explain more about who we are and what we stand for. For the founder of a company (our size) to take the time to go on tour to meet people and talk about our products says a lot about how we view our stockists. We see them as part of our family, and we want it to stay that way. 
We aren't perfect. Staying in a close relationship with the number of people we work with isn't easy. But it's something we're committed to working on, more and more. 
If you'd like for us to take a tour through your region, drop a comment below and give us some suggestions!