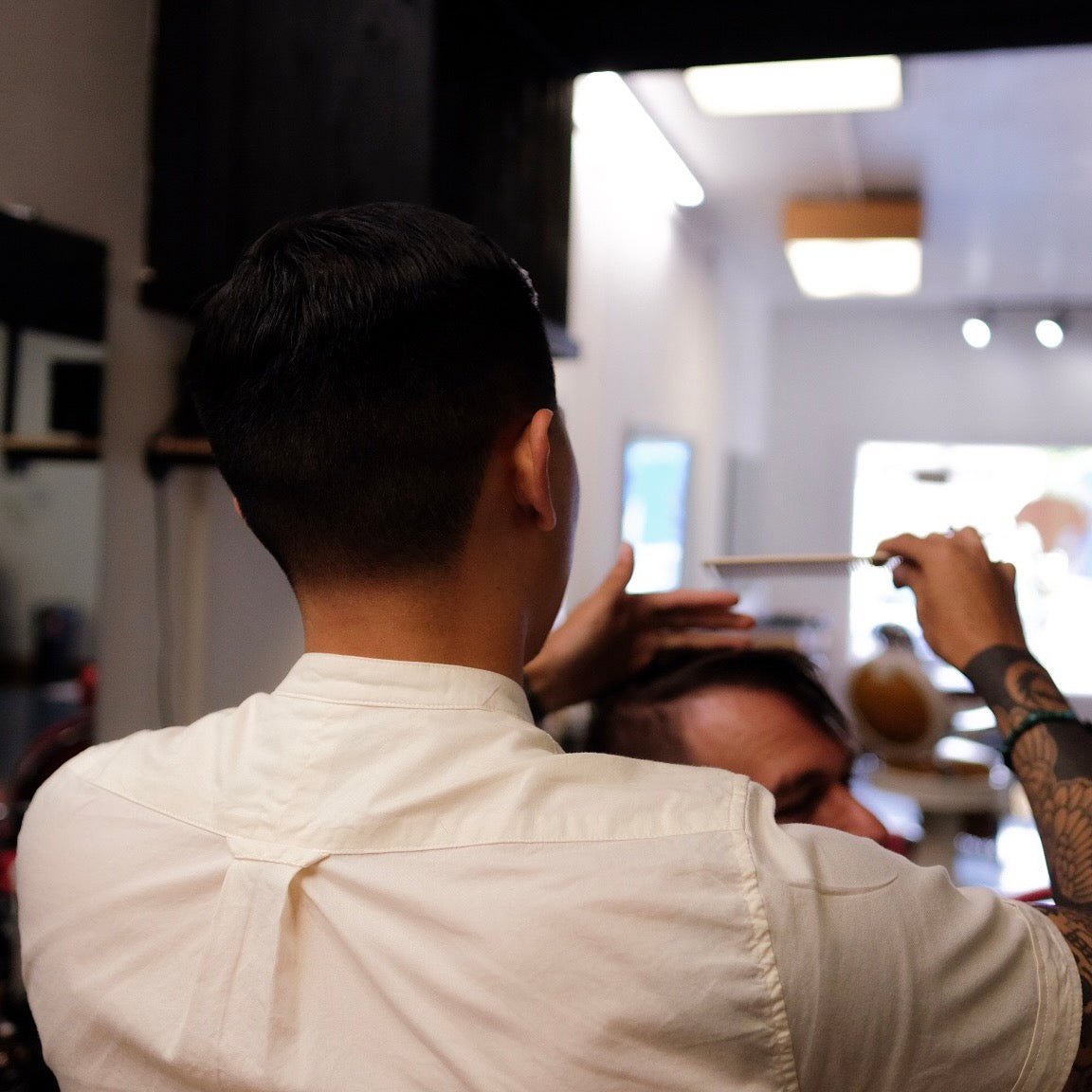 O'Douds on Tour: Texas Recap
Earlier this year, the O'Douds team got together to collaborate on ways we can demonstrate how much we value building relationships with each of our stockists. We all agreed that although emails, phone calls, and social media messages are useful tools for communication, nothing can replace a handshake and a good, face-to-face conversation. So, we decided to hit the road to meet up with some of our old friends and make some new ones. 
We thought it would be cool to update our Journal with a recap from each of our trips, and first up is our home state of Texas. O'Douds started when our founder, Clayton, decided to start making all-natural pomade in the kitchen of his apartment in Houston. It seems fitting that we begin documenting our journeys where it all began. 
We started our trip in Houston and then journeyed our way up through the Austin area to Dallas/Fort Worth over four days. We enjoyed lots of incredible food and were well-supplied with good whiskey to give away, compliments of our friends at Slow & Low.
Houston
We had an opportunity to visit our friends at Space Montrose, one of O'Douds very first stockists. Space is a well-curated lifestyle boutique that's overflowing with love for Houston. 
We also got to stop and visit with one of our newest stockists, Cuts & Bruises Barbershop. Arguably one of the coolest barbershops we've ever seen, Cuts & Bruises shares space with a local boxing gym. Hence, the name of the shop. 
One of the highlights of our trip was getting to participate in the grand opening of Forth and Nomad's flagship store in the Houston, Heights. Forth & Nomad is one of our Premier Stockists (more to come on this), which means they carry the majority of our products in store. If you ever wanted to try any of our goods in person, but have a hard time finding what you're interested in, the chances are that Forth and Nomad carries it.
We met up with our friend, Juan Valentine, who just so happens to be an incredibly talented barber and a sought-after yoga instructor. Juan is the epitome of what it means to be a Sensible Human, and we are happy to announce that we'll be working with him a lot more in the future. Did we mention that he is also dripping with style?
Lastly, we stopped by one of our most beloved barbershops, Bison Barbers, to catch up with co-owner, John Velasco. We were able to capture a couple of demonstrations of John using O'Douds for some (soon-to-be-released) cut & style videos.
Austin
On the way from Houston to Austin, we stopped into the quaint town of Brenham to visit our friends at Ballad of the Bird Dog. This is a beautiful store, located in the historic part of town. They carry a wide array of goods, and we are proud to be listed among them. 
Once we arrived in Austin, we visited our friend Jeremiah ______, the founder of The Bearded Bastard. It was a pleasure to pop into their offices and try out some of their newest products and scents. It turns out; they were looking to pick-up an all-natural deodorant for their online store, so we were more than happy to shake hands on that deal. 
We couldn't visit Austin without stopping by Shed Barber and Supply. These guys and gals are not only incredibly talented barbers, but their entire shop also embodies the values and vibe that make Austin such a great city. 
We rolled down South Congress Street and dropped off some samples of our products at a couple of shops there. Surprisingly, O'Douds is hard to find in Austin. Don't worry; we are working to change that. 
We got to stop by and meet up with our new friends at The Barba Shop in East Austin. They are brand new and have a great location. We were able to do a little on-the-spot education about our products, and Clayton enjoyed every minute of it! 
While in East Austin, we also made it a priority to swing into another new spot, Scruff's Barbershop. We agreed that this shop is remarkably clean and cleverly branded, and it's also in a very cool location. 
To cap off our time in town, we stopped by House of St. Clair and connected with our friends there. They are a men's wear company that makes some seriously impressive clothing, with some of the finest fabrics we've ever felt. 
Make no mistake; we also enjoyed our fair share of good food, doughnuts, coffee, and beer while in Austin. It's one of the most vegan-friendly cities on the map. 
Dallas & Fort Worth
We started our time off in Fort Worth at Sons of Liberty Coffee. Not only do they stock O'Douds; they offer fantastic coffee in one of the most rad coffee shops we've visited. 
Like in Austin, we also dropped off some samples of our products in a few barbershops in like The Local Barber of Fort Worth and District Barbershop. 
We were able to stop into The Lathery and educate their team on a few tips and tricks with our Texture Powder, a product they seemed very proud to carry. 
From there, we made our way to Dallas, eating and drinking, of course. We stopped into a cool shop, Davis Street Mercantile, and met some of the kindest, most hospitable people we've come across. We stopped in to give them some samples, and we walked out with our hands full of free stuff. 
We missed our friends at Rob's Chop Shop; a great shop that carries our products, and it's located right outside of downtown. 
Were able to stop into a couple of other barber shops on our way out of the metroplex. We met some new people and introduced them to O'Douds. Again, for a city so large, our goods are hard to find. We're hoping that won't be the case for much longer. 
--
Trips like this are proving to be invaluable to us. We get to meet some incredible people and explain more about who we are and what we stand for. O'Douds doesn't use distribution companies to manage our relationships in the US. While this creates more complexity for us, it's absolutely worth it. For the founder of a company (our size) to take the time to go on tour to meet people and talk about our products says a lot about how we view our stockists. We see them as part of our family, and we want it to stay that way. 
We aren't perfect. Staying in a close relationship with the number of people we work with isn't easy. But it's something we're committed to working on, more and more. 
If you'd like for us to take a tour through your region, drop a comment below and give us some suggestions!