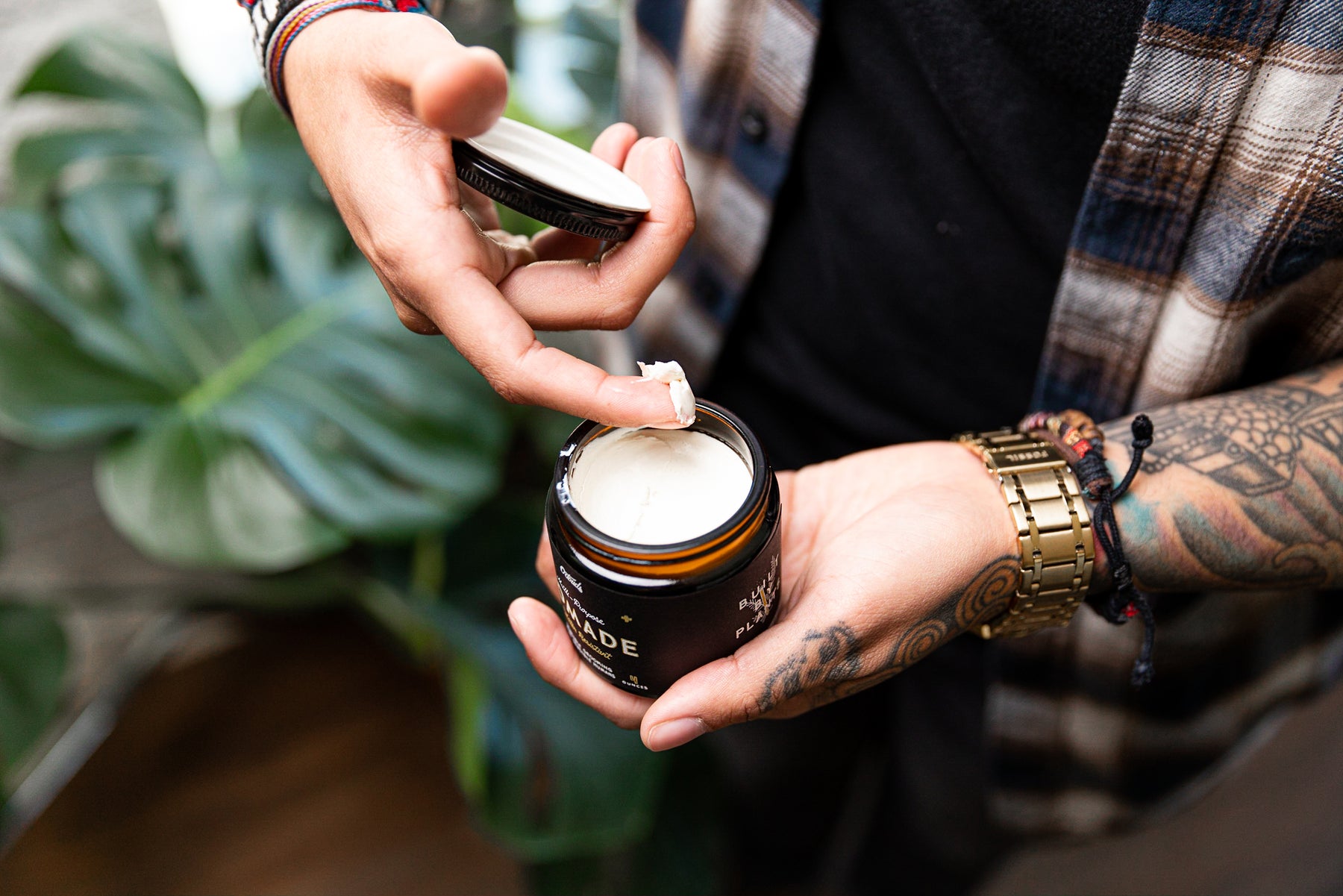 Let's Talk About Multi-Purpose Pomade!
Hey there, welcome back! The last time we chatted, we gave a bit more information about our classic Standard Pomade and how it can be used to revitalize hair and create some pretty amazing looks. Now it's time to dive into another fan-favorite, our Multi-Purpose Pomade!
Built to be restyle-able no matter what you throw at it, our Multi-Purpose Pomade is the ideal product to keep your hairstyles in pristine condition. From working out to rainy days and humidity, think of this as the multi-tool of pomades. Did we mention it's also water-resistant as well? 😉 This week, we had the opportunity to interview our very own founder and lead alchemist, Clayton Douds to get inside scoop on Multi-Purpose Pomade.  
So, let's talk Multi-Purpose Pomade!
AMBERE:

 What's your favorite style to create with our Multi-Purpose Pomade?
CLAYTON: Classic styles, but really anything

! Of course it's not going to give you volume, if that's what you are looking for, but otherwise it's one of the most, if not the most, flexible product from O'Douds. I personally rock it with finger combed slickbacks. 
Ambere: What types of hair can you use Multi-Purpose Pomade for?
Clayton: It's best used for medium to thick hair, but can be beneficial for all sorts of unruly hair! We developed multi-purpose pomade to be water resistant for the very purpose of dealing with extra stubborn hair and environments. It holds up no matter the heat or humidity, and that's really why it shines.
Ambere: Do you pair Multi-Purpose Pomade with any other product for certain looks?
Clayton: Absolutely! Multi-Purpose goes great with just about anything BECAUSE it's one of the only water-resistant products around. It can add a bit of humidity-resistance to just about any style. In particular though, I like to pair it with other products when working with curly hair. For instance, it works great with Matte Paste on thick and/or curly hair, because it can add some weight and longevity to the style. Something folks with curly hair desperately need.
Ambere: Any tips or tricks you want to share when applying Multi-Purpose Pomade? 
Clayton: Work it evenly through the hair, from the sides and the back! Most people slap product right on the top of their head first, then work it in. This is going to make your hair look greasy, and it's going to mean you don't have product on the parts that really need it! This is true of every product, but especially true with Multi-Purpose Pomade.  Another tip is to use this when doing water-related activities, including working out! It won't come out completely even if you go swimming and it won't run down into your eyes while you are working out.
Ambere: What trends are you currently into?
Clayton: Well, I'm growing my hair out and I've been loving it! But in general, I've been seeing more and more scissor work and I'm so here for it. Textured crops, textured tops, textured sides, and I love any look that's crazy on top but has a clean and refined fade. Which of course leads me to mullets, which are making a big comeback, and somehow I'm loving that too! It's gotta be done right, don't do this one at home, seriously.
Ambere: What's your dream collaboration and why?
Clayton: Jonathan Van Ness. Obviously.
Ambere: What album do you have on repeat?
Clayton: SOUR. I miss being a teenager, don't @ me.
Shop all of our Multi-Purpose Pomade Bundles here! 
Check out the other products in our "Let's Talk About" series below: