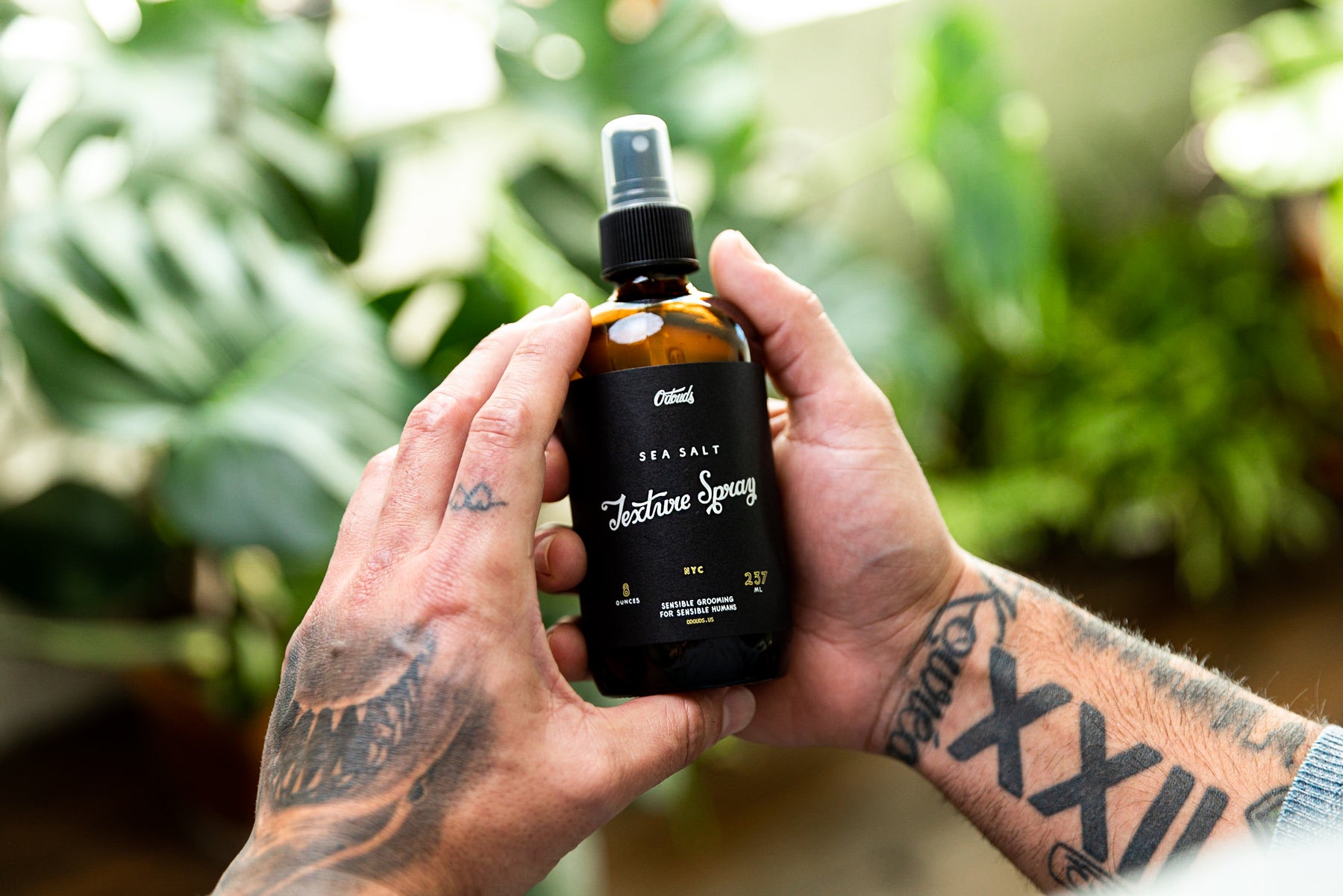 Let's Talk About Texture Spray
Inclusivity is at the heart of what we do. So when we got in touch with Andy of No Harm hair salon in Seattle to chat, we got pretty excited. No Harm was born when queer owners Andy and Anita wanted to celebrate their community and inspire all individuals to be their true authentic selves. We enjoyed asking Andy questions about Seattle, the salon, and gained some professional insight into how to use O'Douds Texture Spray. 
JIMMY: The story of No Harm is so heartwarming. From the mission statement of, "to create dope hair for ALL with no harm to animals and the planet," to the fact that you and your partner, Anita, founded the shop with the same vision in mind. How have you seen that vision grow over the years?
ANDY: The vision of No Harm was an easy one for Anita and I because it lines up with who we are as people, and what we want to see happen in the hair industry. I believe it grew because we saw a need, a need from vegans and queers. Everyone to us deserves dope hair without stress or anxiety of the products used, or possible non queer friendly spaces. 
Jimmy: How has the community in Seattle taken to your ethos and business?
Andy: With open arms, I can't count anymore how many vegans feel safe that the stuff used is vegan but also good vegan products. I can't count how many queers love the vibe and energy in our space. Personally, (Andy) pre covid I would see lots of people, mostly queers, who before seeing me would see two different stylists for their hair. Their stylist wasn't comfortable doing tight fades, so they could only get the top cut, then go to a barber for the sides. This blew my mind. We're the one stop shop for hair, we do it all.
Jimmy: What's an ideal weekend in Seattle look like? Any tips for a tourist?
Andy: Well, first make sure you come in the summer months, the rain does happen but it's mostly the clouds that will put a damper on things. Food is always a good start, Seattle is also a coffee haven, so if that's your jam this is what I would suggest. Saturdays are a great day for coffee at Vivace on Capitol Hill, then take the lightrail train downtown to the pike place market if shopping and seeing the gum wall is your feel. You can even walk down to the waterfront for some other activities from the market. Another spot is Cycle Dogs, it's a great way to start your morning with breakfast, this has been a big place that my partner and I have spent all our money at. I would suggest doing this on a Sunday because the Ballard Farmers Market will be happening and you can hit both at the same time. Once we're done with the market we like to walk into Ballard Consignment and look at all the interesting and awesome stuff they have in this store. Lunch or Dinner I'd hit up El Chupacabra for a vegan steak chimichanga and margarita, after you'll want a nap. For dinner, Life On Mars is dope, awesome food and great non and alcoholic drinks.
Jimmy: Your focus is on barbering, beards, and long and short hair styles. What's the most important part of your hair cutting process when you get a client in the chair?
Andy: Listening to them, If you don't listen to their words and ask questions you both won't be on the same page. What an inch to you, ok this is what an inch is to me. This also helps people with any anxiety they may be bringing into the shop if they're new. Some people have a hard time going into a new shop for the first time.
Jimmy: Sometimes technique is everything. What technique do you recommend for Texture Spray?
Andy: On damp hair, rewet the hair with the texture spray (but not dripping), starting in the back working your way forward start the drying process. I tell all my people work the hair in all directions, this will give it the best texture and lift. Once the hair is dry finish it off with a paste of your choice if needed. Some hair textures look really good with just the spray.
Jimmy: Are there any O'douds products that pair well with Texture Spray?
Andy: Matte Paste, Standard Pomade are my two.
Jimmy: Is there a type of hair you would recommend it for?
Andy: This is definitely good on short styles as long as your hair isn't prone to frizzing out, if the hair does get to frizzy from the spray a little styling treatment will help big time.
Check out the other products in our "Let's Talk About" series below: