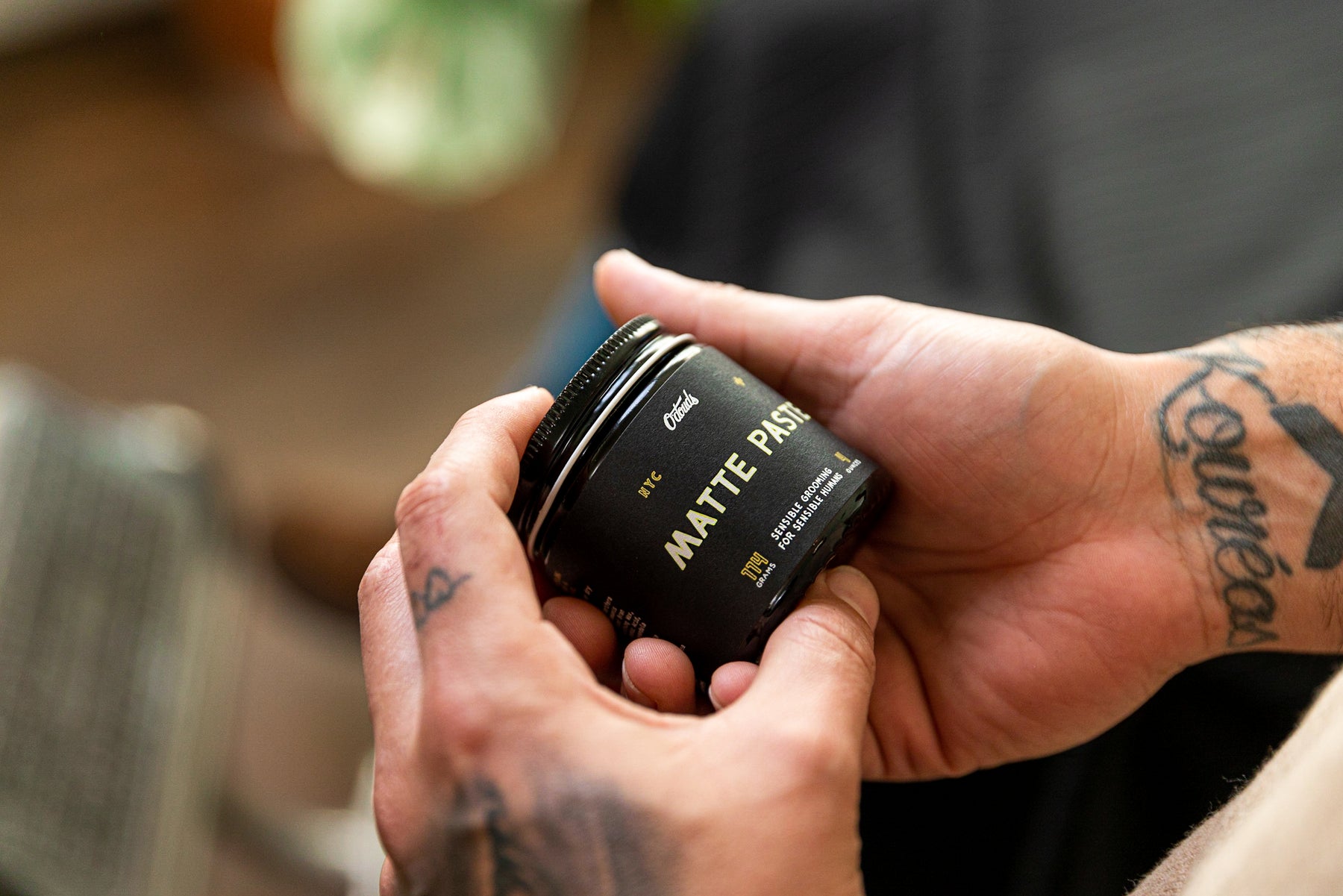 Let's Talk About Matte Paste!
What better way to get to know a product than talking to the founder and lead alchemist? Clayton is a wealth of knowledge for formulating, scent making, and the lab in general. Curious about Matte Paste? You're in luck. The expert is in!
JIMMY:

Matte Paste is a mainstay product of O'Douds that has been around for a while. What's a favorite memory from the early days of the company?
CLAYTON: Yeah! Matte Paste has been our most popular product since we released it many years ago now. Favorite memory from around that time is really just all the fun and weird things we had to do to squeeze into our 1,200 square foot space on the second floor in Brooklyn. One time we had to carry a full drum, roughly 1,000lbs, up a flight of stairs. Somehow we did it? That kind of story reminds me that I'm not as young as I once was though, because I would NOT do that again. Hahaha.
Jimmy: So many product ideas get thrown around in lab meetings. What's the wackiest product you've made or thought of making?
Clayton: Like, actually considered making? Color tinted styling products maybe? Like a Styling Treatment or Conditioning Cream type of product, but with hair color in it, so it slowly tints your hair red, for example. Or black for people interested in covering up their greys a bit. As a side point though, grey hair rules, don't cover it up!
Jimmy: Technique can make a big difference when styling hair. What technique do you recommend when adding Matte Paste to a hair routine?
Clayton: Apply the product evenly and don't overwork it in your hands. Massage the product into the hair thoroughly, starting from back to front and making sure you don't put all of the product on a small area of your hair. Work it into your hair once it's all the way in so that it spreads around more evenly.
Jimmy: What O'Douds products pair well with Matte Paste?
Clayton: It really depends on what you want, and what type of hair you have! If you are using this for volume alone, you could add some texture powder for extra volume without adding extra weight. This would be good for someone that has fine hair that's easily weighed down. For the opposite, you could mix in a little pomade or conditioning cream if you have extremely thick hair to embrace the texture from the matte paste, but cut down some of the volume. Sometimes the Matte Paste can add a bit too much volume if your hair already has plenty of volume in it.

Jimmy: Is there a type of hair you would recommend it for?
Clayton: Thin, fine, and straight hair is where this product shines the brightest! However, it works for all sorts of hair types if you want to add texture and volume.

Jimmy: Matte Paste shares the same scent as Texture Powder. What do you enjoy about Labdanum and Lime as a scent combination?
Clayton: I love the sweet citrusy smoothness of this scent. It's reminiscent of a cocktail, and almost more than any other scent, I'm tempted to give it a drink when I am making it. Warning though, this is a BAD idea, no one get any ideas.
Jimmy: Scent making is such a key step in the formulation process. As lead alchemist, how do you get inspired to create new scents?
Clayton: One big change we've made over the past couple of years is crafting scents specifically for certain products. I really love this change, because I already have a vision for how a product performs and who will use it, so it feels very natural to build a scent for that vision. The Matte Paste has a lot of clay in it, so it naturally has an earthy scent that can be hard to cover up, and the labdanum does a wonderful job of working with that, instead of against it. Then the Lime just brightens and lifts everything up!

Jimmy: You're in the lab making a batch of products. What song is on repeat?
Clayton: This past few months it's definitely been Remi Wolf's new album Juno. Everyone in the lab knows that album pretty well now, whether they wanted to or not! Honestly though I'm actually not the primary DJ anymore in the lab, which is probably a good thing.
Check out the other products in our "Let's Talk About" series below: